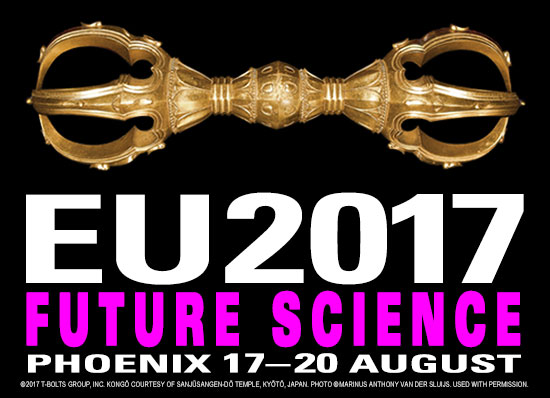 FUTURE SCIENCE: that's the theme of our sixth annual conference, EU2017. But don't confuse this theme with science fiction.
Speakers will not be projecting popular ideas and mathematical contrivances into an imagined future. EU2017 will call for science minus the fiction. No Big Bang, no dark matter, no black hole singularities, no neutron stars, no thermonuclear core of the sun, no planets on clockwork orbits for billions of years; few if any "dirty snowball" comets; and no claim whatsoever that comets and asteroids trace to the primitive origins of the solar system (one of the more popular fictions).
This will be an Electric Universe conference, named as such because the electric force is active everywhere across the cosmos. The vastness of space is animated by a life-like sea of charged particles, called plasma, and the plasma universe is the Electric Universe.
For many newcomers to the new paradigm, the greatest discovery will be that the Electric Universe is testable. This is why so many "surprises" of the space age have animated the Electric Universe community, inspiring a global movement. Now we are eager to get the message out, and the EU2017 Conference: Future Science could well be your best opportunity to follow the conversation. Join us and become part of the change.
The symbol for the annual conferences is the primordial cosmic thunderbolt: Sanskrit [vajra], Tibetan [dorje], and Japanese [kongō] because this enigmatic "weapon of the gods" directly links a global theme of antiquity to the leading edge of plasma science.
The mainstays of the Electric Universe community join with leading pioneers in the sciences to review promising frontiers of discovery. Watch over the coming weeks for the Schedule presentation titles and for talk descriptions and bios at the Speakers page. The Schedule is subject to change without notice.
The Special Events agenda includes the FREE opening session on Thursday evening, the Breakout Rooms plus the Bookstore and other events yet to be determined. No private EU Geology tour is planned at this time.
If you cannot attend the EU2017 conference in person, you can watch the EU2017 Rebroadcast after the event. For those of you attending the conference, you might want to relive the experience. Or catch that one or two favorite talks for further reflection. The rebroadcast will begin September 7, 2017.
---
Click Here For General Registration Information and to Register