---
OUR NEXT CONFERENCE IS TENTATIVELY SCHEDULED FOR MAY 2019 IN DENVER, COLORADO. WATCH THIS SPACE LATER IN 2018 FOR MORE DETAILS. 
CONSIDER ATTENDING THE INDEPENDENTLY ORGANIZED INTERNATIONAL ELECTRIC UNIVERSE CONFERENCE
IN BATH, ENGLAND THIS SUMMER.
---
Thunderbolts YouTube Channel

Since at least the mid 20th century, witnesses around the world have reported hearing a puzzling, consistent humming sound with no identifiable physical source. For decades, a majority of media attention has focused on the so-called Taos Hum, the mysterious buzzing sound heard by many in the desert of Taos, ...
Continue reading >>

We have made major discoveries that contemporary science cannot explain at this time. Go to www.safireproject.com and we invite your constructive comments and thoughts as we journey through some of the most profound plasma phenomena ever seen before. To all who have contributed - a most sincere thanks. The SAFIRE ...
Continue reading >>
Follow all our videos on The Thunderbolts Project YouTube Channel
---
Thunderbolts Picture of the Day (TPOD)

March 20, 2018 Computer simulations cannot correctly model supernova explosions. Contemporary astrophysical models of stellar evolution rely on the mechanical action of cold gas collapsing from gravitational impetus. Stars are seen as whirling vortices of compressed matter heated to fusion temperatures by pressure, alone. Clouds of gas and dust a ...
Continue reading >>
---
Thunderblogs

 The Mysterious Hum By Jimmy Mikecz You hear a low rumble that sounds like it is about a mile away. You go outside, but the annoying noise is actually louder in your house. The low hum is not an appliance, and there are no factories or highways nearby. You and ...
Continue reading >>
---
Discourses on an Alien Sky Series

Here we follow the evidential trail back into prehistoric times to consider the most ancient roots of the mother goddess image. Of particular interest to this investigation is the cross-cultural evidence of an emerging toroidal form, originally inseparable from the goddess herself, appearing as the opening and closing "womb of ...
Continue reading >>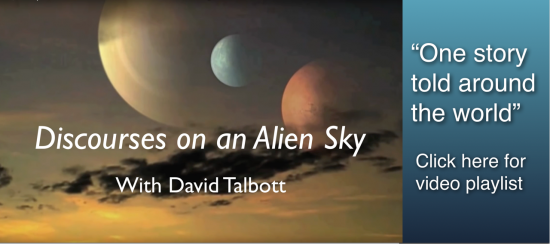 ---
Essential Guide to the Electric Universe

The Essential Guide to the Electric Universe (EG2EU) Written by Bob Johnson Edited by Jim Johnson This Guide is intended for anyone who wonders how our Universe really works, and who might be interested in an intriguing and somewhat different point of view. Readers may be surprised to discover that ...
Continue reading >>
---
Two Full-Length Documentaries –
FREE

on YouTube
---
DVDs

Stars in an Electric Universe. This exceptional lecture by Wallace Thornhill was delivered as the John Chappell Memorial Lecture at the Natural Philosophy Alliance Conference in 2011.
More info. Order link
The Lightning-Scarred Planet Mars. In this second episode of SYMBOLS OF AN ALIEN SKY, David Talbott takes the viewer on an odyssey across the surface of Mars, finding that only electric arcs can produce the observed features.
More info. Order link
Seeking the Third Story. David Talbott's two groundbreaking lectures at the first annual conference of The Thunderbolts ProjectTM—EU2012 Conference: The Human Story.
More info. Order link
The Electronic Sun and Returning Science to Real Physics. These two lectures by Donald Scott and Wallace Thornhill were high points of the EU2012 conference.
More info. Order link
---
Books

Thunderbolts of the Gods by David Talbott and Wallace Thornhill introduces the reader to an age of planetary instability and earthshaking electrical events in ancient times. If their hypothesis is correct, it could not fail to alter many paths of scientific investigation.
More info. Order link
The Electric Sky. Dr. Donald Scott systematically unravels the myths of "Big Bang" cosmology, and he does so without resorting to black holes, dark matter, dark energy, neutron stars, or magnetic "reconnection."
More info. Order link
The Electric Universe. In language designed for scientists and non-scientists alike, authors Wallace Thornhill and David Talbott show that even the greatest surprises of the space age are predictable patterns in an electric universe.
More info. Order link