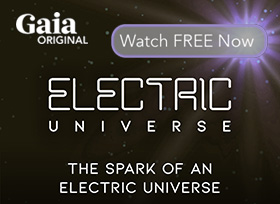 "Electric Universe", the incredible seven part series from Gaia, offers a limited time opportunity to view the initial episode absolutely free.
Wal Thornhill and Ev Cochrane describe the world our ancient ancestors knew until a great cataclysm befell our solar system changing the heavens above and the Earth below.
Scroll down to mid-page on left and watch for FREE Episode 1: "The Spark of an Electric Universe".
---
Thunderbolts YouTube Channel

A new investigation into the wind patterns in Earth's upper atmosphere may provide critical insight into our planet's electrical environment, and its relationship to the Sun. In numerous past episodes, retired professor of electrical engineering Dr. Donald Scott has outlined his mathematical modeling of a Birkeland current's structure, and its ...
Continue reading >>

In the first three parts of this presentation, Thunderbolts colleague Andrew Hall has explored the electrical nature of wind and powerful storms on Earth, and on planets throughout the solar system. Of course, geologists tell us that winds played a significant role in shaping the landscape of our planet, supposedly ...
Continue reading >>
Follow all our videos on The Thunderbolts Project YouTube Channel
---
Thunderbolts Picture of the Day (TPOD)

Artist's impression of a "rupturing magnetar", a possible source for FRBs. Credit: NASA's Goddard Space Flight Center/S. Wiessinger. Jul 19, 2019 FRBs are not gravity bombs. About ten years ago, astronomers discovered what they call a "Fast Radio Burst", or FRB. It was estimated that the event released more energy ...
Continue reading >>
---
Thunderblogs

Wind Map by Andrew Hall The face of the Earth was shaped by three primary means: volcanic eruption, lightning, and wind. It occurred in primordial storms which significantly ionized the atmosphere, charged the ground like a battery, and discharged energy between them in the same way we see today: earthquakes, ...
Continue reading >>
---
Discourses on an Alien Sky Series

In this Discourse David Talbott extends his review of the ancient "labyrinth" theme, suggesting that a concrete explanation could lie within our reach: "It should go without saying that, in the absence of a concrete referent, such storytelling will appear to have no believable interpretation. But if we tentatively grant ...
Continue reading >>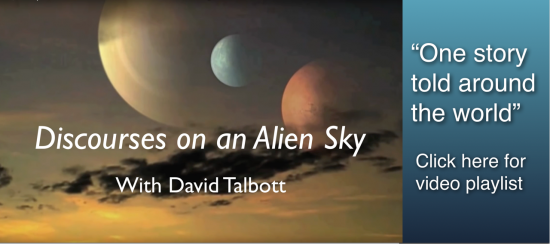 ---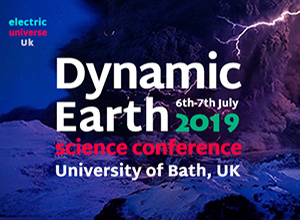 Electric Universe UK 'Dynamic Earth' features Royal Astronomical Society Fellow, Dr. Jeremy Dunning-Davies, President of the Telesio-Galilei Academy of Sciences, Professor Andre Assis from Brazil, Wal Thornhill from Australia, Andy Hall from USA, and a special SAFIRE update. Join us in Bath, England, Saturday & Sunday, 6-7 July 2019. A special Gala Dinner will be held on Saturday night. For more information and tickets, click here.
EU UK 2019 conference is independently organized and operated. Next year, The Thunderbolts Project will produce EU2020:Vision in the USA.
---
Essential Guide to the Electric Universe

This Guide is intended for anyone who wonders how our Universe really works, and who might be interested in an intriguing and somewhat different point of view. Readers may be surprised to discover that many well-trained skeptics do not support popular ideas in astronomy and the space sciences. Contents ...
Continue reading >>
---
Two Full-Length Documentaries –
FREE

on YouTube
---
DVDs

Stars in an Electric Universe. This exceptional lecture by Wallace Thornhill was delivered as the John Chappell Memorial Lecture at the Natural Philosophy Alliance Conference in 2011.
More info. Order link
The Lightning-Scarred Planet Mars. In this second episode of SYMBOLS OF AN ALIEN SKY, David Talbott takes the viewer on an odyssey across the surface of Mars, finding that only electric arcs can produce the observed features.
More info. Order link
Seeking the Third Story. David Talbott's two groundbreaking lectures at the first annual conference of The Thunderbolts ProjectTM—EU2012 Conference: The Human Story.
More info. Order link
The Electronic Sun and Returning Science to Real Physics. These two lectures by Donald Scott and Wallace Thornhill were high points of the EU2012 conference.
More info. Order link
---
Books

Thunderbolts of the Gods. David Talbott and Wallace Thornhill introduce the reader to an age of planetary instability and earthshaking electrical events in ancient times. If their hypothesis is correct, it could not fail to alter many paths of scientific investigation.
More info. Order link
The Electric Sky. Dr. Donald Scott systematically unravels the myths of "Big Bang" cosmology, and he does so without resorting to black holes, dark matter, dark energy, neutron stars, or magnetic "reconnection."
More info. Order link
The Electric Universe. In language designed for scientists and non-scientists alike, authors Wallace Thornhill and David Talbott show that even the greatest surprises of the space age are predictable patterns in an electric universe.
More info. Order link
A Beginner's View of Our Electric Universe. Written by a layman in astro-science for the astro-science lay audience. This book presents the basics of the Electric Universe model without the use of math or difficult language.
More info. Order link