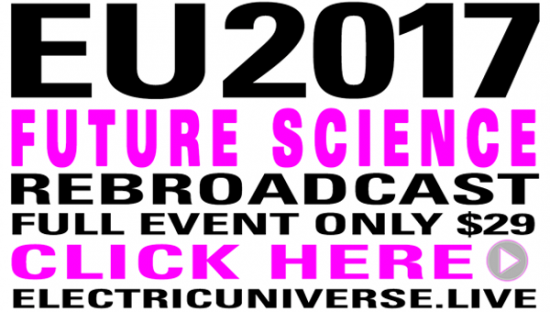 Our next conference EU2019 is tentatively scheduled for May 2019 in Denver, Colorado. Watch this space later in 2018 for more details.
Consider attending the independently organized ELECTRIC UNIVERSE CONFERENCE in Bath, England, this summer.
---
Thunderbolts YouTube Channel

The ravaged surfaces of solid bodies in space tell stories, stories that demand valid interpretations in order to decipher. A dramatic type of feature observed on every solid body is a crater, a depression that seems to speak to some violent event in the distant past. The so-called debate in ...
Continue reading >>

Goodbye big bang and the mathematical nonsense masquerading as modern science. The future is a different universe — an Electric Universe — and The Thunderbolts Project is the key to that future. The Thunderbolts Project follows the Renaissance model of inventors, philosophers, engineers, and artists being funded by private visionaries ...
Continue reading >>
Follow all our videos on The Thunderbolts Project YouTube Channel
---
Thunderbolts Picture of the Day (TPOD)

May 22, 2018 Sunspot activity is unusually low. Three things cannot be long hidden: the sun, the moon, and the truth. --- Buddha The Sun fluctuates in output strength and visible sunspots across its surface in a cycle that lasts about 22 years. During the past 11 or 12 years, ...
Continue reading >>
---
Thunderblogs

Sputtering Canyons, Part 3 By Andrew Hall In Part 1 of the Sputtering Canyons series, we discussed Arches National Monument and evidence that it was formed by a complex sputtering discharge process. That process involved a thermal-spiking, barrier discharge in a layer of wet sandstone. In Part 2, we looked at how charge ...
Continue reading >>
---
Discourses on an Alien Sky Series

In the case of the Atlantis myth, what can be substantiated is the archetype, and that archetype reaches far beyond any local legend. The archetype reflected in the Atlantis myth is the story of a far-famed city, island, kingdom, or continent in primeval times—either forgotten or subsequently destroyed by water ...
Continue reading >>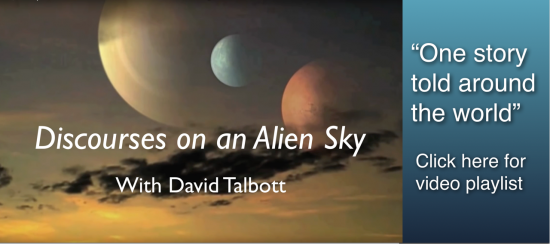 ---
Essential Guide to the Electric Universe

The Essential Guide to the Electric Universe (EG2EU) Written by Bob Johnson Edited by Jim Johnson This Guide is intended for anyone who wonders how our Universe really works, and who might be interested in an intriguing and somewhat different point of view. Readers may be surprised to discover that ...
Continue reading >>
---
Two Full-Length Documentaries –
FREE

on YouTube
---
DVDs

Stars in an Electric Universe. This exceptional lecture by Wallace Thornhill was delivered as the John Chappell Memorial Lecture at the Natural Philosophy Alliance Conference in 2011.
More info. Order link
The Lightning-Scarred Planet Mars. In this second episode of SYMBOLS OF AN ALIEN SKY, David Talbott takes the viewer on an odyssey across the surface of Mars, finding that only electric arcs can produce the observed features.
More info. Order link
Seeking the Third Story. David Talbott's two groundbreaking lectures at the first annual conference of The Thunderbolts ProjectTM—EU2012 Conference: The Human Story.
More info. Order link
The Electronic Sun and Returning Science to Real Physics. These two lectures by Donald Scott and Wallace Thornhill were high points of the EU2012 conference.
More info. Order link
---
Books

Thunderbolts of the Gods by David Talbott and Wallace Thornhill introduces the reader to an age of planetary instability and earthshaking electrical events in ancient times. If their hypothesis is correct, it could not fail to alter many paths of scientific investigation.
More info. Order link
The Electric Sky. Dr. Donald Scott systematically unravels the myths of "Big Bang" cosmology, and he does so without resorting to black holes, dark matter, dark energy, neutron stars, or magnetic "reconnection."
More info. Order link
The Electric Universe. In language designed for scientists and non-scientists alike, authors Wallace Thornhill and David Talbott show that even the greatest surprises of the space age are predictable patterns in an electric universe.
More info. Order link