Thunderbolts YouTube Channel

In this John Chappell Memorial Lecture, Wal Thornhill sets forth a unified paradigm where plasma is the dominant, universal medium and the electric force rules the cosmos. Wal's message to conventional theorists is simple and direct: give up all mathematical contrivances and return to the solid ground of observation, deduction, ...
Continue reading >>

Scientists today are expressing their astonishment over the detection of water-deposits on an asteroid that is thought to be pure metal. The asteroid is called 16 Psyche, and it's described as the largest metallic asteroid in the solar system. In previous episodes, Dr. Franklin Anariba has proposed that electrochemical processes ...
Continue reading >>
Follow all our videos at The Thunderbolts Project YouTube Channel
---
DISCOURSES ON AN ALIEN SKY #24 | RITUALS OF REMEMBERING AND FORGETTING NOW AVAILABLE!
CLICK THE IMAGE BELOW FOR DETAILS.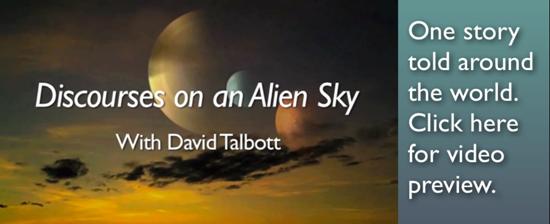 ---
Thunderbolts Picture of the Day (TPOD)

Dec 2, 2016 Galactic filaments are known to plasma physicists as Birkeland currents. A recent press release details the enigmatic structure of Galaxy NGC 4696. What makes this galaxy so unique is that multiple strands of material extend outward in light-years-long tendrils, enclosing it in a loose cocoon. According to ...
Continue reading >>
---
Thunderblogs

The Monocline By Andrew Hall In previous Thunderblogs, we discussed evidence of electromagnetic and hydrodynamic forces that shaped the landscape with arcing currents in an atmospheric surface conductive path. We theorized these currents sent bolides of plasma jetting through the atmosphere, blow-torching the ground below into craters and mountainous blisters, ...
Continue reading >>
---
Patreon Campaign

Our Patreon page: https://www.patreon.com/tboltsproject Today, we ask for your support to continue and to expand our outreach through our highly successful YouTube Channel and other tools in development through a newly established Patreon campaign. This could mean the addition of special podcasts and video presentations featuring a wider range of ...
Continue reading >>
---
Essential Guide to the Electric Universe

Introduction Maxwell's Equations and the Lorentz Force Law together comprise the e/m field equations; i.e., those equations determining the interactions of charged particles in the vicinity of electric and magnetic fields and the resultant effect of those interactions on the values of the e/m field. For ease of explanation, the ...
Continue reading >>
---
Two Full-Length Documentaries –
FREE

on YouTube
---
DVDs

Stars in an Electric Universe. This exceptional lecture by Wallace Thornhill was delivered as the John Chappell Memorial Lecture at the Natural Philosophy Alliance Conference in 2011.
More info. Order link
The Lightning-Scarred Planet Mars. In this second episode of SYMBOLS OF AN ALIEN SKY, David Talbott takes the viewer on an odyssey across the surface of Mars, finding that only electric arcs can produce the observed features.
More info. Order link
Seeking the Third Story. David Talbott's two groundbreaking lectures at the first annual conference of The Thunderbolts ProjectTM—EU2012 Conference: The Human Story.
More info. Order link
The Electronic Sun and Returning Science to Real Physics. These two lectures by Donald Scott and Wallace Thornhill were high points of the EU2012 conference.
More info. Order link
---
Books

Thunderbolts of the Gods by David Talbott and Wallace Thornhill introduces the reader to an age of planetary instability and earthshaking electrical events in ancient times. If their hypothesis is correct, it could not fail to alter many paths of scientific investigation.
More info. Order link
The Electric Sky. Dr. Donald Scott systematically unravels the myths of "Big Bang" cosmology, and he does so without resorting to black holes, dark matter, dark energy, neutron stars, or magnetic "reconnection."
More info. Order link
The Electric Universe. In language designed for scientists and non-scientists alike, authors Wallace Thornhill and David Talbott show that even the greatest surprises of the space age are predictable patterns in an electric universe.
More info. Order link