---
Thunderbolts Project YouTube Channel
Many leading scholars believed that Zeus's thunderbolt was a mental construct and did not exist in the real world. Author Ken Dowden is representative of this belief: "There is no such thing as a thunderbolt because lightning is not an object that is thrown. . . " Given such skepticism ...
Continue reading >>
Fear and division are being whipped up globally through a compliant media and the internet as if it were wartime. The difference now is that the war is against Nature on two fronts—a pandemic and a human-triggered planetary heat death. And as usual in wartime, truth is the first casualty ...
Continue reading >>
Follow all our videos on Thunderbolts Project YouTube Channel
---
Thunderbolts Picture of the Day | Archive

This is the Thunderbolts Picture of the Day | Archive. For new editions of The Picture of the Day go to electric-forces.com, independently owned and operated by Steve Smith. Featuring The Picture of the Day by Steve Smith, along with exclusive content by Mel Acheson, Wal Thornhill, Don Scott, and ...
Continue reading >>
---
Thunderblogs

The Final Chapter by Andrew Hall Eye of the Storm presents a case study for how electrical forces shaped the Colorado Plateau and its surroundings. In this tenth and final chapter, there are a few things to conclude and review in summary. What we've done in these chapters is reverse ...
Continue reading >>
---
Discourses on an Alien Sky Series

Here we offer a brief preview of our directions in 2020 and beyond, supporting a revolutionary interpretation of the mythic and symbolic archetypes. Our purpose is to demonstrate that the documented archetypes are explicitly and inseparably connected to the themes we've repeatedly affirmed in these Discourses. Our claim is that ...
Continue reading >>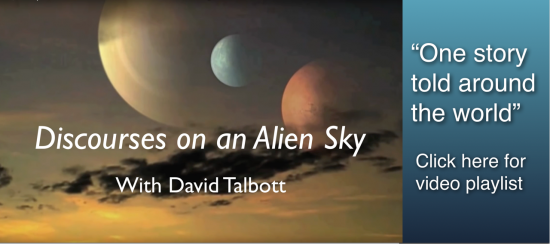 ---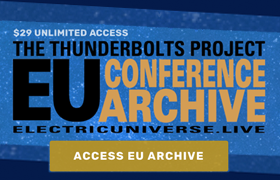 EU Conference Archive
ELECTRICUNIVERSE.LIVE
Unlimited access to the EU Conference Archive is now available for only $29. Contains all keynote and speaker presentations from EU2017: Future Science and EU2016: Elegant Simplicity.
---
Essential Guide to the Electric Universe

This Guide is intended for anyone who wonders how our Universe really works, and who might be interested in an intriguing and somewhat different point of view. Readers may be surprised to discover that many well-trained skeptics do not support popular ideas in astronomy and the space sciences. Contents ...
Continue reading >>
---
Two Full-Length Documentaries –
FREE

on YouTube
---
DVDs

Stars in an Electric Universe. This exceptional lecture by Wallace Thornhill was delivered as the John Chappell Memorial Lecture at the Natural Philosophy Alliance Conference in 2011.
More info. Order link
The Lightning-Scarred Planet Mars. In this second episode of SYMBOLS OF AN ALIEN SKY, David Talbott takes the viewer on an odyssey across the surface of Mars, finding that only electric arcs can produce the observed features.
More info. Order link
Seeking the Third Story. David Talbott's two groundbreaking lectures at the first annual conference of The Thunderbolts ProjectTM—EU2012 Conference: The Human Story.
More info. Order link
The Electronic Sun and Returning Science to Real Physics. These two lectures by Donald Scott and Wallace Thornhill were high points of the EU2012 conference.
More info. Order link
---
Books

Thunderbolts of the Gods. David Talbott and Wallace Thornhill introduce the reader to an age of planetary instability and earthshaking electrical events in ancient times. If their hypothesis is correct, it could not fail to alter many paths of scientific investigation.
More info. Order link
The Electric Sky. Dr. Donald Scott systematically unravels the myths of "Big Bang" cosmology, and he does so without resorting to black holes, dark matter, dark energy, neutron stars, or magnetic "reconnection."
More info. Order link
The Electric Universe. In language designed for scientists and non-scientists alike, authors Wallace Thornhill and David Talbott show that even the greatest surprises of the space age are predictable patterns in an electric universe.
More info. Order link
A Beginner's View of Our Electric Universe. Written by a layman in astro-science for the astro-science lay audience. This book presents the basics of the Electric Universe model without the use of math or difficult language.
More info. Order link