---
Thunderbolts YouTube Channel

For the last 85 years, scientists have hypothesized many different types of dark matter, and the search continues in earnest today, with astronomical sums invested in the technological quest to prove dark matter's existence. Yet rather than finding any confirmation of dark matter, space scientists have been left empty-handed, with ...
Continue reading >>

As we've reported in several recent episodes, astronomers and astrophysicists today are increasingly recognizing the existence of electric currents in space, at all scales throughout the cosmos. Yet curiously, this recognition has done little to change the gravity-centric nature of modern cosmology. In this episode, we explain why electric currents ...
Continue reading >>
Follow all our videos on The Thunderbolts Project YouTube Channel
---
Thunderbolts Picture of the Day (TPOD)

Feb 16, 2018 A ring of galactic plasma. There is a twisted ring of material surrounding the nucleus of Galaxy Centaurus A; an "active galaxy" that exhibits axial jets and a doughnut-shaped plasma discharge. Active galaxies are brighter than other galaxies of the same type, since they radiate excess energy ...
Continue reading >>
---
Thunderblogs

Sputtering Canyons, Part 1 By Andrew Hall In summer of 2016, following the Electric Universe conference in Phoenix, Arizona, EU Geology researchers visited Arches National Monument and the deep reaches of Canyonlands, Utah, where the Green and Colorado Rivers channel through the Colorado Plateau. Arches National Monument is an astonishing ...
Continue reading >>
---
Discourses on an Alien Sky Series

In this episode, we consider the early origins of the ancient mother goddess image, finding a close connection to a prehistoric gathering of planets well before the "Polar Configuration" to which we've devoted much attention in this video series. Most significantly, it is the role of the planet Venus in ...
Continue reading >>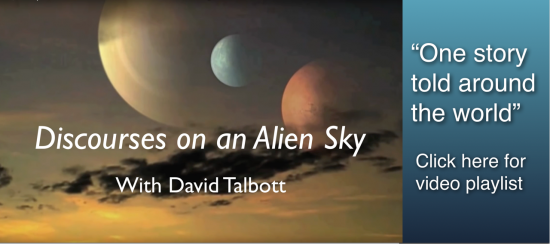 ---
Essential Guide to the Electric Universe

The Essential Guide to the Electric Universe (EG2EU) Written by Bob Johnson Edited by Jim Johnson This Guide is intended for anyone who wonders how our Universe really works, and who might be interested in an intriguing and somewhat different point of view. Readers may be surprised to discover that ...
Continue reading >>
---
Two Full-Length Documentaries –
FREE

on YouTube
---
DVDs

Stars in an Electric Universe. This exceptional lecture by Wallace Thornhill was delivered as the John Chappell Memorial Lecture at the Natural Philosophy Alliance Conference in 2011.
More info. Order link
The Lightning-Scarred Planet Mars. In this second episode of SYMBOLS OF AN ALIEN SKY, David Talbott takes the viewer on an odyssey across the surface of Mars, finding that only electric arcs can produce the observed features.
More info. Order link
Seeking the Third Story. David Talbott's two groundbreaking lectures at the first annual conference of The Thunderbolts ProjectTM—EU2012 Conference: The Human Story.
More info. Order link
The Electronic Sun and Returning Science to Real Physics. These two lectures by Donald Scott and Wallace Thornhill were high points of the EU2012 conference.
More info. Order link
---
Books

Thunderbolts of the Gods by David Talbott and Wallace Thornhill introduces the reader to an age of planetary instability and earthshaking electrical events in ancient times. If their hypothesis is correct, it could not fail to alter many paths of scientific investigation.
More info. Order link
The Electric Sky. Dr. Donald Scott systematically unravels the myths of "Big Bang" cosmology, and he does so without resorting to black holes, dark matter, dark energy, neutron stars, or magnetic "reconnection."
More info. Order link
The Electric Universe. In language designed for scientists and non-scientists alike, authors Wallace Thornhill and David Talbott show that even the greatest surprises of the space age are predictable patterns in an electric universe.
More info. Order link