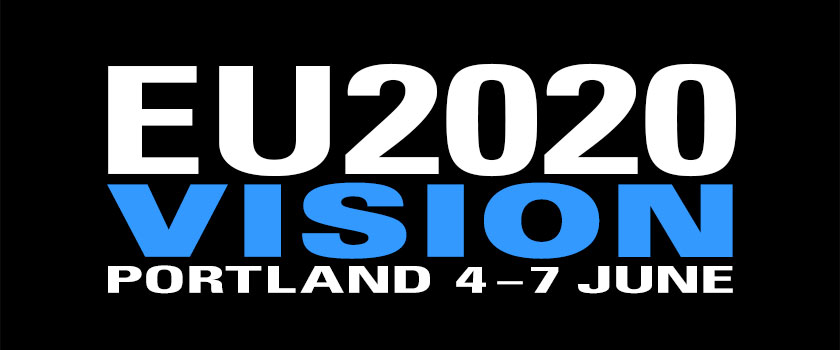 ---
Thunderbolts YouTube Channel

Scientists from the Universities of Bonn and Strasbourg have published a paper which reported the successful formation of galaxies without the hypothetical influence of dark matter. As reported by phys.org, "For the first time, researchers from the Universities of Bonn and Strasbourg have simulated the formation of galaxies in a ...
Continue reading >>

A meteorite that crashed to Earth half a century ago has provided a jolt of surprise to astronomical theory. The object, called the Allende meteorite, exploded over the desert in Mexico in 1969. Scientists studying meteorite fragments have made a shocking discovery. Material in the fragments, which the scientists have ...
Continue reading >>
Follow all our videos on The Thunderbolts Project YouTube Channel
---
Thunderbolts Picture of the Day (TPOD)

Grand spiral galaxy M83 (NGC 5236) Credit: Subaru Telescope (NAOJ), Hubble Space Telescope, European Southern Observatory, Robert Gendler. Click to enlarge. Feb 19, 2020 Spiral galaxies are everywhere in the Universe. They make up over 70% of all observed galaxies. Recently, astronomers studying galaxy M83 with the Hubble Space Telescope ...
Continue reading >>
---
Discourses on an Alien Sky Series

Here we offer a brief preview of our directions in 2020 and beyond, supporting a revolutionary interpretation of the mythic and symbolic archetypes. Our purpose is to demonstrate that the documented archetypes are explicitly and inseparably connected to the themes we've repeatedly affirmed in these Discourses. Our claim is that ...
Continue reading >>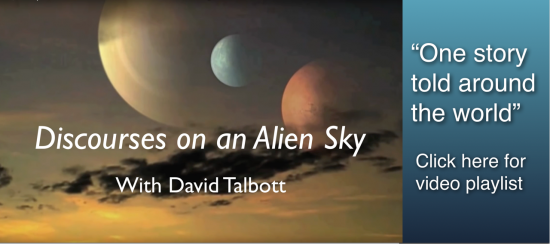 ---
Thunderblogs

Wind Map by Andrew Hall The face of the Earth was shaped by three primary means: volcanic eruption, lightning, and wind. It occurred in primordial storms which significantly ionized the atmosphere, charged the ground like a battery, and discharged energy between them in the same way we see today: earthquakes, ...
Continue reading >>
---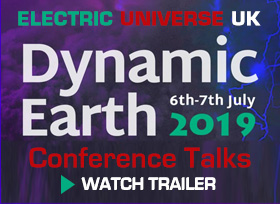 Dynamic Earth 2019 conference talks from Electric Universe UK, an independent sister organization of The Thunderbolts Project, are now available.
Montgomery Childs and Dr. Michael Clarage present the SAFIRE Project; Wal Thornhill from Australia; Dr. Jeremy Dunning-Davies from the UK; Eugene Bagashov from Belarus; Andrew Hall and James Sorensen from the USA; Edwin Kaal from Holland. Watch the trailer here.
---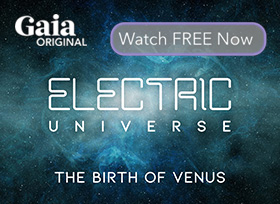 "Electric Universe", the incredible seven part series from Gaia, offers a limited time opportunity to view the fourth episode absolutely free.
Wal Thornhill and Ev Cochrane delve into ancient tales of a goddess with disheveled hair or a head full of snakes that may explain a massive change to our solar system as a new heavenly body joined it.
Scroll down to mid-page, center video and watch for FREE Episode 4: "The Birth of Venus".
---
Essential Guide to the Electric Universe

This Guide is intended for anyone who wonders how our Universe really works, and who might be interested in an intriguing and somewhat different point of view. Readers may be surprised to discover that many well-trained skeptics do not support popular ideas in astronomy and the space sciences. Contents ...
Continue reading >>
---
Two Full-Length Documentaries –
FREE

on YouTube
---
DVDs

Stars in an Electric Universe. This exceptional lecture by Wallace Thornhill was delivered as the John Chappell Memorial Lecture at the Natural Philosophy Alliance Conference in 2011.
More info. Order link
The Lightning-Scarred Planet Mars. In this second episode of SYMBOLS OF AN ALIEN SKY, David Talbott takes the viewer on an odyssey across the surface of Mars, finding that only electric arcs can produce the observed features.
More info. Order link
Seeking the Third Story. David Talbott's two groundbreaking lectures at the first annual conference of The Thunderbolts ProjectTM—EU2012 Conference: The Human Story.
More info. Order link
The Electronic Sun and Returning Science to Real Physics. These two lectures by Donald Scott and Wallace Thornhill were high points of the EU2012 conference.
More info. Order link
---
Books

Thunderbolts of the Gods. David Talbott and Wallace Thornhill introduce the reader to an age of planetary instability and earthshaking electrical events in ancient times. If their hypothesis is correct, it could not fail to alter many paths of scientific investigation.
More info. Order link
The Electric Sky. Dr. Donald Scott systematically unravels the myths of "Big Bang" cosmology, and he does so without resorting to black holes, dark matter, dark energy, neutron stars, or magnetic "reconnection."
More info. Order link
The Electric Universe. In language designed for scientists and non-scientists alike, authors Wallace Thornhill and David Talbott show that even the greatest surprises of the space age are predictable patterns in an electric universe.
More info. Order link
A Beginner's View of Our Electric Universe. Written by a layman in astro-science for the astro-science lay audience. This book presents the basics of the Electric Universe model without the use of math or difficult language.
More info. Order link