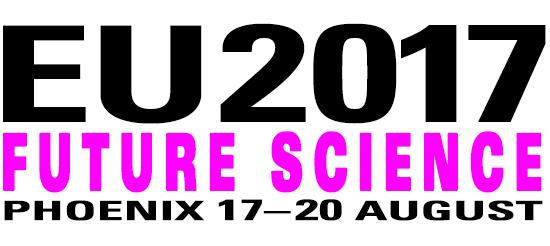 SPECIAL EVENTS
On the docket now are the FREE public opening session and the Breakout Rooms. Check back for more details as the conference approaches.

---
OPENING NIGHT FREE TO THE PUBLIC
Thursday, August 17, 2017, 7:00 pm
Canyon Ballroom, First Floor
 Admission to the opening session on Thursday evening is FREE to the public.

---
EU2017 BREAKOUT ROOMS
PEER-TO-PEER SHARING
Located in the Conference Center, First Floor
Contact Jean Hafner for more information: jhafner at swcp dot com.
---
Hands-on Experiment: Building the Solar System as Electrical Transformer
Place: Breakout Rooms
Time: Watch the Breakout Room Schedule for specifics
Come build an electrical model of the Solar System with Dr. Michael Clarage of the SAFIRE team. Using your hands, lots of wire, and a signal generator, you will help build a scale model of the Solar System. This has never been done before. Guaranteed plenty of mistakes but lots of fun.
Each planet transforms solar energy differently. From the X-Ray emissions of Jupiter's poles to the lightning storms on Neptune, each planet is its own transformer of solar energy. Altogether, what does the whole Solar System look like from an electrical point of view? We will build a Solar System using Bode's Law and Kepler's Laws. We will put an oscillating signal in the center to mimic the Sun's 22-year sunspot cycle, and we will measure the electrical response from each planet's orbit.
For more background see Dr. Clarage's article "The Solar System as Electrical Transformer" plus two Space news videos on the experiment: Solar System as an Electrical Transformer | Space News and  A New Way of Seeing the Solar System | Space News