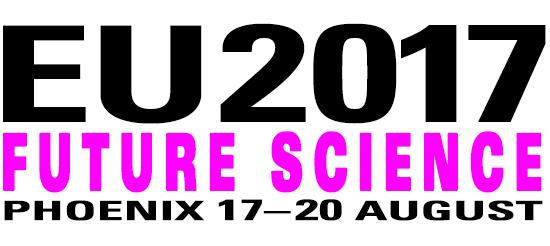 SPECIAL EVENTS
On the docket now are the FREE public opening session featuring Drs. Jerry Pollack and James Ryder, The Baby & the Bathwater film showing, and the Breakout Rooms, including a hands-on experiment about the Solar System as Electrical Transformer. Check back for more details as the conference approaches especially the Breakout Rooms' schedule now posted. New is the Breakout Room Open House and Swap Meet Up with Social Hour as a conference opener.

---
OPENING NIGHT FREE TO THE PUBLIC
Thursday, August 17, 2017, 7:00 pm
Canyon Ballroom, First Floor
 Admission to the opening session on Thursday evening is FREE to the public.

View the SCHEDULE for more information.
---
The Baby & the Bathwater
An Original Film by Katherine Fitzgerald
When: Saturday, August 19, 2017, 7:30 pm
Where: Main Canyon Ballroom
At the EU2014 Conference, various senior scientists and researchers participated in a film project to share their recollections of Immanuel Velikovsky. This included Bill Mullen, Dwardu Cardona (dec.), Warner Sizemore (dec.), C.J. Ransom, Bruce Mainwaring, Dave Talbott, and Wal Thornhill. Directed by Katherine Fitzgerald, and initially intended as an archival record for posterity, the scope of the project broadened and ultimately became the focus of Katherine's MA thesis at the University of Staffordshire. In the words of those who knew Velikovsky personally, The Baby & the Bathwater sheds a fascinating light on one of the most controversial scientific figures of the 20th century and is a work in progress, pending further funding. The film debuted in the EU2016 Breakout Room to a standing-room-only crowd. At EU2017, Katherine will present the film in the Main Hall prior to the Velikovsky Day Recollections evening panel.
Katherine Fitzgerald is an award-winning short filmmaker and Gemini and DGC award winning sound editor. Her short film Bread & Kisses (2010) screened at over 20 international film festivals, including the Cannes Film Festival in 2011 as part of the National Film Board of Canada's program Coups de Coeur – Crazy Canucks. In 2014, Katherine was an Electric Universe Conference Scholar and has attended every conference since. Having an interest in bringing the EU paradigm to a wider audience, she produced and directed a short documentary about Immanuel Velikovsky, The Baby & the Bathwater (2015). Katherine is currently working on a short, spoken word/performance film, Paradigm Shift, with fellow Canadian, EU conference attendee, and Breakout Room presenter, Ghada Chehade. Production is planned for 2018.
---
EU2017 BREAKOUT ROOMS
PEER-TO-PEER SHARING SCHEDULE
Located in the Conference Center, First Floor
Contact Jean Hafner for more information: jhafner at swcp dot com
Subject to change without notice — please check back for updates
---
Exhibits
Ongoing during lunch breaks, dinner breaks, and as available
Canyon Ballrooms A-B-C — until 5:00 pm Sunday
Bookstore — David Harrison
Funderbolts and Swap Meet — Anthony Dunford
Building the Solar System as Electrical Transformer — Dr. Michael Clarage and Ken Krohn
The VU: Virtual Reality Applied to Scott's Model of Birkeland Currents — Lukas Womack and David Johnson 
Healing is Voltage: Biomodulator — Rev. Karla Bass, Dr. Xan Simonson, Joe and Amy Tilchen
Ejecta From Upheaval Dome, Utah — Bob Hawthorne and Robert Hawthorne Jr.
Ampère's Force Law and Weber's Electrodynamics — Alan Aversa
Computer Graphics of the Kaal Atom & A New EUGeology.rocks Website  —  James Sorensen
Fractal Branding & Coloring/Measuring the "Dougherty Set" – Buddy James Dougherty
Backyard Experiments into Planetary Features by Electrodynamics & Hydrodynamics – DzParker
Peer-to-Peer Presentations
Thursday
2:00-4:00 — Set up and Technical Try-outs – Canyon Ballroom A-B-C, Agua Fria, Arroyo
5:30-7:00 — Open House with Swap Meet and cash bar – Canyon Ballroom A-B-C (see announcement below)
Friday
12:10-12:40 — Dr. Ghada Chehade and Katherine Fitzgerald – Electric Cosmology: The Coming Paradigm Shift and the Voice of Poetry – Arroyo
12:10-12:45 — Dr. Ray Gallucci – Mathematical Plausibility of EU theory for Pulsars and Gravitation – Agua Fria
12:45-1:25 — Neil Thompson, EET – Fires in the Sky – Arroyo
5:30-6:10 —  Eileen McKusick – Biofield Tuning Followup Demonstration – Agua Fria
5:30-6:10 — Richard Moore – Why Do Stars and Planets Have Magnetic Fields? Why Do They Rotate? – Arroyo
6:30-7:15 — Dr. Jacqueline Greenfield – Follow-up to Main Talk – Agua Fria
6:15-7:15 — Andrew Hall, Edwin Kaal, James Sorensen, Neil Thompson, and Others – The EU Geology Toolbox Keeps Growing – Arroyo
Saturday
12:10-12:35 — Adam Stuart – Some Highlights from Decades of Velikovskian Research and Activism – Agua Fria
12:40-1:25 — Roger Poisson, EE – Electrical Field Force and the Motion of Planets – Arroyo
5:30-6:20 — Dr. Jerry Tennant – Healing is Voltage – Arroyo
5:30-6:10 — Dr. Ray Gallucci – Mathematical Plausibility of EU theory for the Birth of Asteroid Belt and Galactic Rotation Anomaly – Agua Fria
6:20-7:20 — Wal Thornhill – Film by David Avery on Mythography – Agua Fria
6:30-7:15 — Video interview with Jno Cook by Andrew Fitts – Contributions to Alternative Cosmology: Absu/Duat, World Flood, Flood of Noah, and the Hour of Phaethon – Arroyo
Sunday
12:05 – 12:45 — Virginia Fujii – Plasma and the Goddess: Medusa, Michelangelo and the Mother of God – Agua Fria
12:05-12:40 — Jim Lyons and Peter Howard – Telluric Birkeland Currents – Arroyo
12:45 – 1:25 — David Johnson, Lukas Womack, and Jim Weninger – The VU: Virtual Reality Applied to Scott's Model of Birkeland Currents – Arroyo
12:55-1:25 — Dr. Coral Wynter – Roundtable – On Catastrophe and Women: Input Sought – Agua Fria
5:40-6:20 — Johnny Godowski – Continuation of Talk – Arroyo
---
BREAKOUT ROOM OPEN HOUSE AND SWAP MEET UP WITH SOCIAL HOUR (Cash Bar)
When: 5:30 – 7:00 pm Thursday, August 17, 2017
Where: Canyon Ballrooms A-B-C
Bring a small item to swap.The idea is to meet new friends and reconnect with old ones.  Conference attendees are encouraged to bring something to swap and then are welcome to pick what they like from the swap table.  These items can be funny, or EU related, or something from your hometown or state.  Whatever it is, it should be meaningful to you in some way.  Add a tag with your name, if you wish. The swap will start at the Breakout Room Open House and then continue throughout the conference.  As you would expect, we will have the final say about the appropriateness of a swap item.  Photo credit: EU2016 Banquet, Ben Ged Low.
---
HANDS-ON EXPERIMENT: BUILDING THE SOLAR SYSTEM AS ELECTRICAL TRANSFORMER
When: During the conference
Where: Canyon Ballrooms A-B-C
Come build an electrical model of the Solar System with Dr. Michael Clarage of the SAFIRE team. Using your hands, lots of wire, and a signal generator, you will help build a scale model of the Solar System. This has never been done before. Guaranteed plenty of mistakes but lots of fun.
Each planet transforms solar energy differently. From the X-Ray emissions of Jupiter's poles to the lightning storms on Neptune, each planet is its own transformer of solar energy. Altogether, what does the whole Solar System look like from an electrical point of view? We will build a Solar System using Bode's Law and Kepler's Laws. We will put an oscillating signal in the center to mimic the Sun's 22-year sunspot cycle, and we will measure the electrical response from each planet's orbit.
For more background see Dr. Clarage's article "The Solar System as Electrical Transformer" plus two Space news videos on the experiment: Solar System as an Electrical Transformer | Space News and  A New Way of Seeing the Solar System | Space News