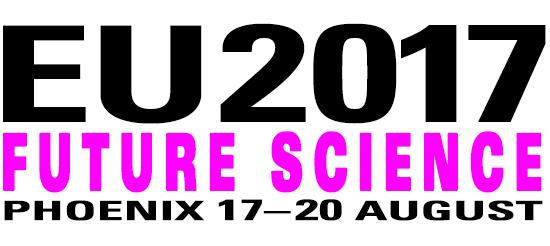 GENERAL REGISTRATION INFORMATION

Onsite Attendance Registration Fee
Early-bird registration is $249USD per person until Sunday, July 9, 2017.
BONUS: With your paid early-bird registration, you will receive a 10% discount coupon for use at the bookstore during the conference.
After Sunday, July 9, 2017, the conference fee will be $299USD per person.
The registration fee covers all conference events Thursday evening (opening session) through Sunday, including all talks, panels, and the Sunday Evening Banquet.
Limited $99USD Room Rate Available

until July 25th
A special single or double room rate of $99USD per night plus room tax has been negotiated with the Sheraton Mesa Wrigleyville in the Phoenix, Arizona, USA area. This special room rate applies to a

limited

number of blocked rooms and will be available on a first come, first served basis.
BONUS: FREE WiFi, parking, and airport shuttle.
Click Location & Hotel for more information.
Registration at the Conference

Individual conference days may be purchased at the door for $199USD per person. Seating may be limited and is subject to availability.
Only USA cash/checks and credit cards will be accepted as payment onsite.
Admission to individual panels and/or talks will not be available for purchase at any time.
Admission to the opening session from 7:00 pm to 9:00 pm, Thursday evening, August 17, is FREE to the public.
Banquet Information
The Sunday Evening Banquet is included in your conference fee.
Additional Sunday Evening Banquet tickets for $46USD may be purchased at registration.
You can request a Vegan, Vegetarian or Gluten Free meal during the registration process.
NOTE: If you are staying at the Sheraton Mesa Wrigleyville and attending the banquet, please plan to stay until Monday, August 21, 2017, since the banquet is not over until 10:00 pm.
Onsite Attendance Registration Fee Refunds
Due to the cost associated with producing an event, requests for registration fee refunds will be paid on the following schedule:
Up to and including June 30, 2017 — 100% refund
July 1, 2017 – July 31, 2017 — 50% refund
August 1, 2017 forward — no refund
Please note: rebroadcasting is contracted through a third party and is separate from onsite attendance registration. Thus, a paid registration fee cannot be converted to a rebroadcasting ticket for those unable to attend the conference.
Rebroadcasting Ticket Sales
The EU2017 Rebroadcast starts September 7, 2017. Click HERE to purchase a ticket!
---
Onsite Attendance Registration is Quick and Easy!
The link below is for those wanting to attend the conference in person. If you have questions about the process or want to register by phone to attend in person, please contact Susan at info at thunderbolts dot info.