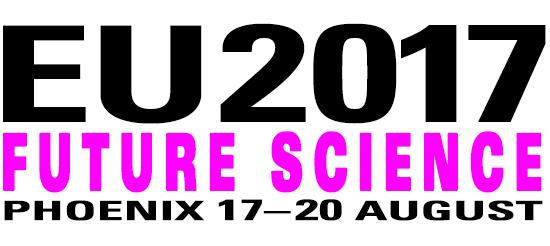 LOCATION & HOTEL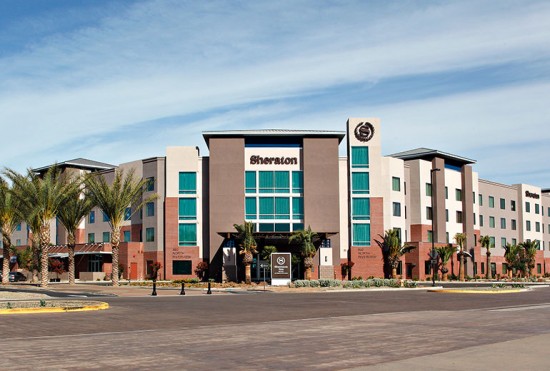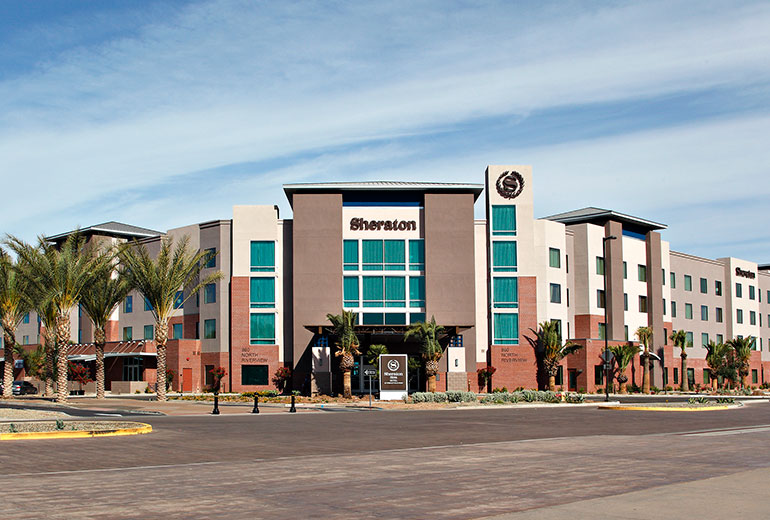 Sheraton Mesa at Wrigleyville West
860 North Riverview
Mesa, Arizona 85201 • United States
Business phone: + (1)(480) 664-1221 • (not reservations)
---
Reservations — Room rates are guaranteed only through July 25!
Important note: This is the Sheraton's national reservation Website. Please email Susan, info at thunderbolts dot info if it shows that rooms are not available for the dates you wish.
Phone: 1-
800-325-3535
Tell the Reservation Clerk the name of the hotel, the city and provide the group name "Electric Universe 2017 Conference/The Thunderbolts Project." A block of rooms has been reserved on a first come, first served basis at the rate of $99USD per night plus tax, which includes FREE Wi-Fi in the guest rooms, free parking and free airport shuttle (9 am to 11 pm.) 
Mark Spann will once again act as the Roomshare and Rideshare Coordinator for this event.  He can be reached at markspann at gmail dot com. 
---
Conference Room
All conference presentations and the Sunday Evening Banquet will take place in the Canyon Ballroom on the first floor of the Sheraton. The Breakout Rooms will be located near the Canyon Ballroom. Watch for signage.
---
Distinctive Features

Built in 2015, the Sheraton Mesa Hotel at Wrigleyville West makes it easy to relax in our resort-style facilities. Our one -acre resort-style pool area comprises three swimming pools, two heated wading pools, two hot tubs, cabanas, poolside services, a sun deck area, and modern fire and water features throughout. Make time for a good workout in our state-of-the-art Sheraton Fitness center, or be pampered in the full-service salon.
After a day of friends, family, or business, there is one more thing to savor: the welcome of our Sheraton, which is completely smoke-free.
---
Local Area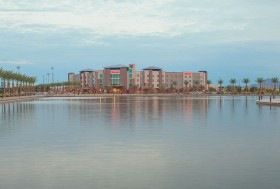 Located in a popular suburb of Phoenix, the Sheraton Mesa Hotel at Wrigleyville West is nestled between the Chicago Cubs' spring training park and Riverview Park, in the new area of Wrigleyville West. Many shopping and dining options are within walking distance, and Tempe Marketplace is also nearby. Phoenix Sky Harbor International Airport is only 8 miles away.
The Mesa Riverview Mall is located across the street from the hotel (1.3 km/0.8 miles) and has many restaurant offerings. The Sheraton Mesa at Wrigleyville West has a well-appointed lounge and several dining options.
---
Transportation Options
The Sheraton Mesa at Wrigleyville West offers a free airport shuttle from 9 am to 11 pm. Call (1)(480) 664-1221 for pickup.
Scheduled departures from the hotel to the airport: 5:30 AM – 10:30 AM, 3:00 PM – 8:00 PM; upon request for all other times. Check with the concierge to schedule.
Travel Distance: Approximately 12.87 km/8.0 miles
Travel Time: 10 minutes (depending on traffic)
---
Maps & Directions