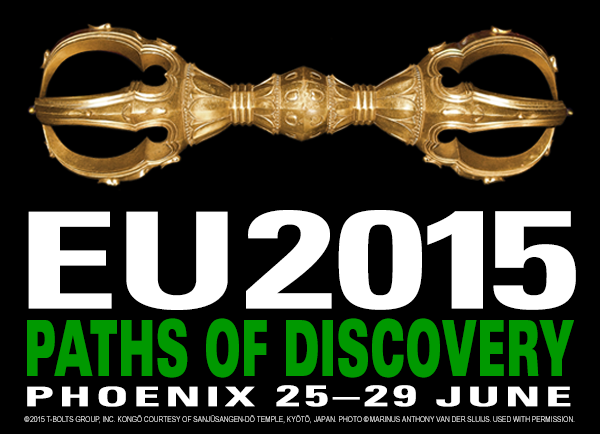 REGISTER NOW

FOR GLOBAL STREAMING!
Once a ticket is purchased, the globally streamed event will be available
for viewing until 5 pm Wednesday July 1, 2015.
---
Surely there is no single, secret pathway to theory-altering discovery. But it should go without saying that innovation, not common beliefs, has driven the most critical advances in the sciences.
The great discoveries did not arrive by accident. From the Copernican revolution to the discovery of "impossible" electric currents in space, the innovators came to recognize the oppressive potential of argument by consensus.
'
The Electric Universe community emphasizes open and interdisciplinary science. It was this commitment that led us to the theme of the EU2015 Conference: Paths of Discovery. Look for contributions from leading innovators and critics of complacency in the sciences. Openness and critical scientific judgment must be partners.
The conference will explore the ways in which institutionalized perception can obstruct the paths of discovery and delay progress for centuries. Alongside these considerations we will take up the essential tests of extraordinary ideas, the role of the reality check before embracing the attraction of a claimed intellectual revolution.
Join us at EU2015 for a four-day exploration of interdisciplinary science, an event designed to break the bounds of conventionality. Discover the universal role of the electric force, from microcosm to macrocosm, where virtually every new surprise points us in the same direction. And find your own connections within a movement that will shape the future of science.
The mainstays of the Electric Universe community join with leading pioneers in the sciences to review promising frontiers of discovery. Watch over the coming weeks as the list of speakers grows.
Building on the remarkable success of our scholarship program over the past two years, EU 2015 will offer scholarships to outstanding students in school from 16 years of age upward.  Don't miss the list of Conference Scholarships awarded to date: Who's Who? EU2015 Conference Scholars
On the docket now are the FREE public opening session, the Breakout Room Schedule, the premiere of SAFIRE–The Documentary, an Astro Tour with Greg Quicke of Australia and the link to global streaming registration. Check back often for more Special Events.  Stay tuned!
We have chosen as our symbol for these annual conferences the primordial cosmic thunderbolt: Sanskrit [vajra], Tibetan [dorje], and Japanese [kongō]. We did so because this enigmatic "weapon of the gods" directly links a global theme of antiquity to the leading edge of plasma science.
---
 For General Registration Information or to Register, Click Below