Special events will include a Fractal Friday show at the science museum, food trucks for lunch,  a play on Buckminster Fuller, demonstrations by Mr2Tuff2, and a private EU-Geology tour.  
---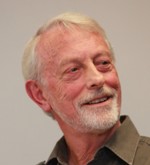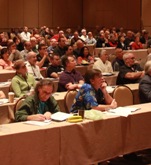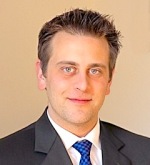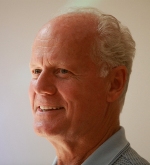 ---
Admission to the opening session on Thursday evening is FREE to the public.
6:00 Social Hour
7:00 Welcome by Dr. Bill Mullen and Introduction of MC David Novak
7:10 Wallace Thornhill: Pulling the Threads of Evidence Together
7:35 David Talbott: Symbols of an Alien Sky — Evidence That Matters
8:00 Ben Davidson: The Variable Sun and Its Effects on Earth
8:45 Questions for Thornhill, Talbott and Davidson
9:00 David Novak: Closing Remarks
The complete schedule for the conference is available here.
---
Fractal Friday Extravaganza at the Science Museum — FREE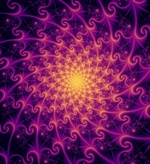 Paid registrants, please join us at 7:30 pm Friday March 21 for a FREE Fractal Friday, a spectacular, award-winning full-dome planetarium show that takes viewers on a tour of the fractals in nature and zooms through infinitely complex mathematical fractals. It is famous among science lovers in New Mexico. Featuring original music, the show is both educational and highly entertaining, and suitable for audiences 3 and up. It has sold out 292 times. The show's creator and EU2014 presenter, Dr. Jonathan Wolfe, will produce a custom production for the EU audience.  For more information on fractals in general, check out the link below.  Don't miss Dr. Wolfe's conference presentation at 1:30 pm on Friday March 21.
The first 110 to sign up will receive a free bus ride to the Fractal Friday show.  To reserve a spot, email susan@thunderbolts.info.  We will also have a sign-up sheet at the Information and Registration Desk during the conference. Guests may accompany a paid registrant for $20 each.
SCHEDULE: the first bus of 55 will load at 5:15 pm from the hotel and will depart for the museum at 5:30 pm. The first group is invited to enjoy dinner at Old Town Albuquerque before the show.  Restaurants recommended include: Crepe Michele (tiny place, patio feel, French), Church St Cafe (cozy, Mexican), High Noon (steaks), Seasons (expensive/gourmet), Quesadilla Grill (cheap Mexican), La Hacienda (ancient building- Mexican), Little Anita's (elbow room, Mexican.) All are easy walking distance to the museum.
The second bus of 55 will load at 6:15 pm from the hotel and depart for the museum at 6:30 pm, arriving at the museum by 7:00 pm.
Following the hour show, the first bus will leave at 8:45 pm arriving at the hotel by 9:15 pm.  It will return for the second group by 9:35 pm. Please note: we are making these arrangements not the Fractal Foundation…..so any questions about this event should be directed to susan@thunderbolts.info.
http://fractalfoundation.org
---
A Play — The History (and Mystery) of the Universe — FREE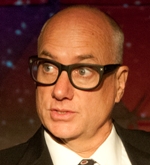 FREE of charge for registered EU2014 attendees. Saturday Evening March 22, 2014, 7:30pm please join us in the Yucatan Ballroom for a play on the life and writings of R. Buckminster Fuller.
R. Buckminster Fuller:
THE HISTORY (and Mystery) OF THE UNIVERSE
by D. W. JACOBS
from the life, work and writings of R. Buckminster Fuller.
R. Buckminster Fuller ("Bucky") was an epic thinker. His insights continue to inform and resonate with us today. He is best known as an inventor and the designer of the geodesic dome. Yet his ingenuity extended into the realm of discourse as well. He was a poet and weaver of words. Bucky was famous for his impromptu lectures that could last for days. Aided by D. W. Jacobs' brilliant weaving of Bucky's words, noted actor and storyteller, David Novak, performs a rhapsody on the life of this great 20th-century individual.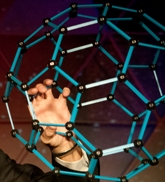 Quotes from the Asheville Citizen-Times Review by David Hopes:
"What I got was an evening not only bountiful in itself, but one which is redefining what I expect from an experience in the theater."
"David Novak masters the complicated task of keeping an audience on the edge of its seat while, essentially, sharing scientific observation."
Photo credit: David Novak
---
Mr2Tuff 2 — Demonstrations at the Conference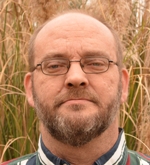 For those of you who are familiar with Billy Yelverton's electrical experiment videos on Mr2Tuff2's YouTube channel, we have a special treat. Billy will be demonstrating a few tabletop experiments that he will have on display in the Tampico Room adjacent to the main conference hall.
Billy will also be showing many of his experiment videos that can be found on his YouTube channel throughout the five days of the conference. This is your chance to discuss and ask questions of Mr2Tuff2, who will be happy to show any of your favorite experiment videos from his channel, answer questions, and even narrate the ones that don't have audio.  Don't miss out on this opportunity!
---
Food Trucks for Lunch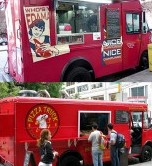 Based on comments from our previous conference attendees, we are trying something new. Walk outside across the parking lot and grab a quick lunch. This could be anything from a veggie-rice bowl to a crepe with mushroom sauce to a green chile burrito. Then take your group to a bench or table to continue the conversation.
Inspired by food trucks such as those at Portland's Pioneer Square and local growers' markets, the Albuquerque Hub Team hopes that a different mix of two or three trucks each day will alleviate the lunch crunch. Check back for more information/schedules as the conference approaches.
SCHEDULE:
Friday: Conchita's and the Chopping Block
Saturday: Conchita's and Sebastiano's
Sunday: Sebastiano's and the Chopping Block
All three will be offering vegan, no-gluten, no dairy as well as food for omnivores.
---
Private EU-Geology Tour through the Southwest USA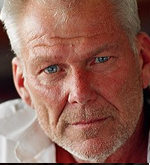 Tour Guide: Michael Steinbacher (305-300-6802) / (steinbac@ix.netcom.com)
Current planning targets three days before (17th to 19th) and ten days after the conference (25th to 3rd).  The first three days will be in the Albuquerque area. After the conference weather will determine the route. Sunny days help to see the geologic process. From Tucson AZ to Bend OR is a possibility. At least a few days will be spent in the Las Vegas area.
Comments from previous EU-Geology tour participants:
Some of us 'space nuts' are also interested in Geology. We love the Mars pictures of strange formations that 'must be' electrical. There are many places on Earth that 'must be' electrical. Michael Steinbacher has searched out these places for 5 years. His list of 'must see' locations is very long.
~Larry White
The interesting question for an electric-catastrophist geology is not whether plasma discharges from space cut channels in existing formations but how those formations were created. The received opinion of weak and gradual internal tectonics is inadequate in the face of the strong and sudden external action of unstable plasma that we now recognize throughout the universe: The formations were likely emplaced quickly where we see them. Michael Steinbacher has selected a number of sites for a tour to illustrate his vision of such a process. An in-the-field tour with 360-degree views can provide the three-dimensional sense of fast deposition that looking at two-dimensional images cannot. If you're interested in what an EU vision of geology might look like, this tour is the place to start.
~Mel Acheson
RETURN TO CONFERENCE HOME PAGE>>>>