Our Eighth EU2013 Scholarship Winner: Adam Rapp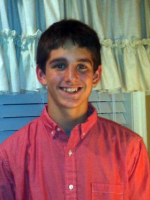 Adam is an eighth grader at Greenwood Middle School in Greenwood, Indiana, USA. He plays basketball, football, runs track and assists with little league baseball. He lives with two brothers and both of his parents.
Adam is an "A" honor roll student and has been since he started grade school. He particularly enjoys math. As an eighth grader, he is sent to the high school daily to take Algebra classes not offered at the middle school and will take the SAT this year at Northwestern. He loves to read books, to listen to music and to learn anything new. He has also participated in a number of school charity events.
Adam learned about the Electric Universe concept from his science teacher Mr. Evan Camp and is interested because he feels that the evidence is just too great to deny.