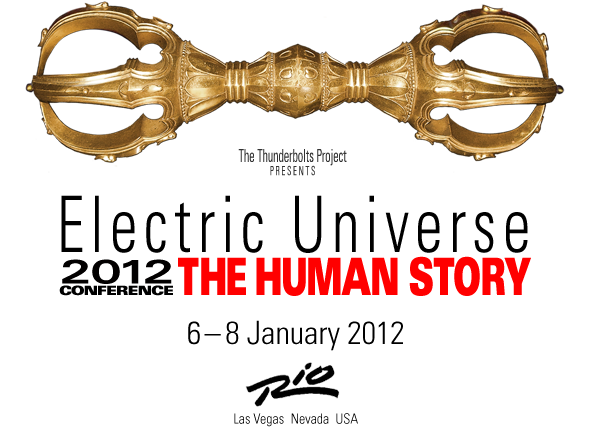 Electric Universe Conference to Kick Off January 6 in Las Vegas
Annual Gathering Debuts with The Human Story
Please join us in a three-day journey through the Electric Universe. Explore with us the unified underpinnings of the natural world.
Witness how horizons expand through interdisciplinary collaboration and synthesis. Discover electric patterns repeating themselves at all scales, from the tiny world of the atom to the far reaches of space. Consider as well the electricity of life and the role of frequencies and resonance in biological systems. See how electricity helped researchers penetrate the great mysteries of the past, the origins of mythic archetypes and symbols, and the roots of cultural anxiety.
We have chosen as our symbol for the conference the primordial cosmic thunderbolt: Sanskrit [vajra], Tibetan [dorje], and Japanese [kongō]. We did so because, as a matter of record, it is this enigmatic "weapon of the gods" that bridges ancient worlds and the leading edge of plasma science.
Join Wallace Thornhill, Donald Scott, David Talbott and a full complement of Thunderbolts Project speakers in launching a new year of the Electric Universe—an unprecedented event that you will not want to miss.
• Listen to Dave Talbott's interview with Henrik Palmgren of Red Ice Creations RED ICE RADIO – 69:19
• Listen to Dave Talbott's interview with Liam Scheff on the Robert Scott Bell Show MP3 – 17:12
• Listen to Wal Thornhill's interview with Liam Scheff on the Robert Scott Bell Show MP3 – 13:17
• Watch David Talbott's preview of the EU2012 Conference on YouTube – 3:11

---
Public Event – Meet the Vanguard of the Electric Universe
Friday, January 6, 2012
A public invitation to the official opening event of the Electric Universe 2012 Conference: The Human Story. Keynote presentation Seeking the Third Story by David Talbott, Director of The Thunderbolts Project, plus previews of conference presentations from featured speakers Wal Thornhill, Don Scott and Greg Volk.
Time: 7:00 p.m. – 10:00 p.m.
Where: Rio Hotel & Casino, Las Vegas; Pavilion Convention Center, Brasilia Ballroom 4.
$20 admission. Doors open at 5:30 p.m. Cash bar. Please arrive early. Seating is limited.
Read and print the event announcement for the Meet the Vanguard of the Electric Universe (PDF 527k)
---
Breaking News!

EU2012 Encore Symposium
Monday, January 9, 2012
A day of reflection by speakers and accredited observers. Q & A on the growing potential of the Electric Universe paradigm. Audience participation encouraged…Continue reading →
---
---
© 2012 The Thunderbolts Project. All rights reserved.
Kongō courtesy of Sanjūsangen-dō Temple, Kyōtō, Japan. Photo © Marinus Anthony van der Sluijs. Used with permission.
---