Exploring our Electric Universe
 "Today, nothing is more important to the future and credibility of science than liberation from the gravity-driven universe of prior theory. A mistaken supposition has not only prevented intelligent and sincere investigators from seeing what would otherwise be obvious, it has bred indifference to possibilities that could have inspired the sciences for decades."
David Talbott and Wallace Thornhill, Thunderbolts of the Gods
See Synopsis
---
Thunderbolts Picture of the Day (TPOD)
---
Thunderbolts YouTube channel
---
Essential Guide to the Electric Universe – Chapter 8
---
Now Available – New DVDs

Electric Universe 2012: 
The Human Story
These are DVD's of selected presentations given at the first annual conference of The Thunderbolts Project in Las Vegas, January 6-8, 2012, entitled: Electric Universe 2012: The Human Story. Each DVD contains two presentations.  See Electric Universe 2012 Conference DVDs.  And look for more to come soon.
Speakers at the January Conference discussed a broad spectrum of topics, including:
A New Picture of Space – See how electricity trumps gravity.
Our Electric Sun – Learn how the sun really works.
Electricity of Life – Discover the electro-magnetic structures of life.
The Human Story – Explore our many connections to the Electric Universe.
---
Now Available

– Stars in an Electric Universe DVD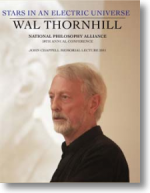 This outstanding lecture delivered by Wallace Thornhill at the NPA 2011 Conference is now out on DVD! See our resources page for more information.
---
Symbols of an Alien Sky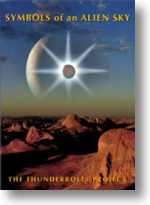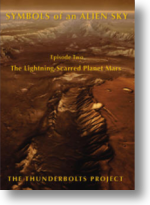 Two DVDs that could change everything you thought you knew about the ancient past. See our resources page for more information.
---

Thunderbolts of the Gods, by David Talbott and Wallace Thornhill, introduces the reader to an age of planetary instability and earthshaking electrical events in ancient times. If their hypothesis is correct, it could not fail to alter many paths of scientific investigation. More info
The Electric Sky. Professor of electrical engineering Donald Scott systematically unravels the myths of "Big Bang" cosmology, and he does so without resorting to black holes, dark matter, dark energy, neutron stars, magnetic "reconnection," or any other fictions needed to prop up a failed theory. More info
The Electric Universe. In language designed for scientists and non-scientists alike, authors Wallace Thornhill and David Talbott show that even the greatest surprises of the space age are predictable patterns in an electric universe. More info