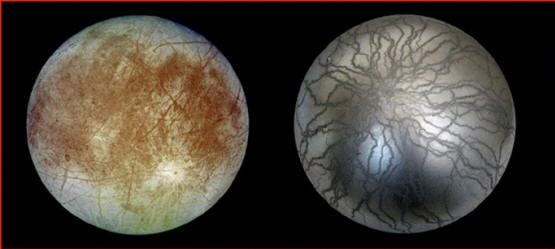 Europa compared to the results of electric arcs on an aluminum-coated children's ball.
Credit: NASA/JPL and C. J. Ransom/Vemasat Laboratories.


Small-Scale Moon

Dec 23, 2010
Laboratory experiments reveal the effects of electric discharges on Jupiter's moon Europa.
Many Picture of the Day articles have discussed the ice moon Europa. The overwhelming conclusion, based on observation, is that it was the scene of cataclysmic events sometime in the recent past. Those events carved its surface into long, sweeping rilles called "flexi" that wend for thousands of kilometers, as well as blackened swaths that crisscross its landscape in multi-kilometer wide spans.
Some features in the so-called "chaos" regions reveal that Europa experienced heating and wrenching forces that shattered and grooved the ice into widely scattered, broken jigsaw puzzle pieces. Since the "ice rafts" are not melted, it indicates a short-lived disturbance of some kind.
When Voyager 2 passed by on its way toward interstellar space, planetary scientists were surprised by the absence of craters on Europa. Jupiter's gravity is supposed to have swept up the millions of smaller rocks and comets left over from the Solar System's formation, so many of them should have been pulled into collision with the moon.
Rather than craters, a vast network of trenches with v-shaped cross sections and steep walls were found. Various hypotheses about fractures, a "decoupled crust" floating on a vast watery ocean, and "oozing water" brought up from Jupiter's "tidal kneading" were proposed in order to bring Europa's strange topography in line with features seen in Earth's Arctic Ocean. Such speculations were dealt a serious blow when the Galileo spacecraft entered Jupiter space in 1996.
Galileo's high resolution camera revealed smoothly cut channels that do not look like fractures. Their orientation disregards prior channels, sometimes with five or six of them stacked on top of each other at every angle. As electrical experiments in Dr. C. J. Ransom's Vemasat Laboratories have shown, this should come as no surprise. Electric currents flowing across a conductive surface are "pinched" into thin filaments by their associated magnetic fields and draw other filaments into parallel alignment. The trackways often overlap each other.
Close-up shots of Dr. Ransom's model, an aluminum-coated ball about a foot in diameter, demonstrate another result when electric arcs strike a sphere: smaller, perpendicular side channels created by corona discharges as the electricity crawled across the ball. Also visible are loops that formed when the electric arc blasted the aluminum off the ball's nonconductive plastic substructure.
Darkened, scorched areas, pits, curving channels that appear to be centered on Europa's poles, and a lack of craters are all duplicated in the Vemasat experiment. NASA's surprises are expected by Electric Universe advocates because plasma behavior scales by many orders of magnitude. From the laboratory to the Solar System's planets and moons, plasma is the primary ingredient that shapes worlds.
Stephen Smith