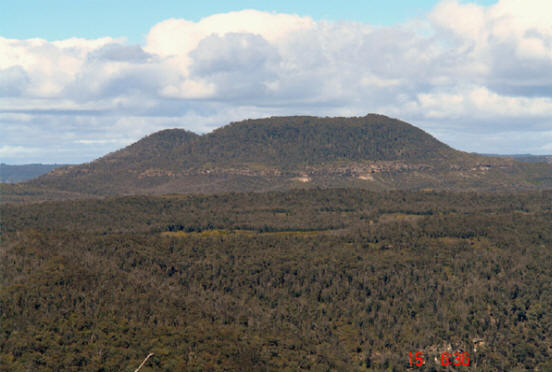 Mount Banks, Australia. Photo by Garry Maxfield.
Mount Banks

Aug 06, 20
10
A fresh perspective on Earthís geology is needed.
We tend to perceive the Universe according to what we see around us. 'Erosion' on other planets must have been caused by wind or water because thatís what is supposed to happen on Earth and thatís all we know. We need to turn things around and look at the geology here with respect to what we see out there.
Mount Banks is situated about 100 kilometres west of Sydney, Australia. It is about 15 kilometres from the Wollangambe Crater, which is not an impact crater or ancient volcano. Mount Banks has always been called a volcano because of the basalt deposits on its summit. However, there is no caldera and no sign of lava flows. There is some basalt there, but the majority of what is found is sandstone, along with layers of ironstone, and a few stone spherules.
The most striking aspect to the mountain is that 40% of it appears to be missing. It is located on the edge of the Grose Valley, which is not unusual. What is strange is that the valley has cut through the side of the mountain. 'It must have been water', one might say, but there is no known mechanism for water to cut vertical cliffs through a mountain.
The width of the valleys in this section of the Blue Mountains is significant because the Grose Valley narrows downstream from this point. If the valley was cut by water, where did all the eroded material go?
Formations on Mars have been considered in previous Picture of the Day articles. Some structures on the Martian surface are similar to the sandstone rock formations found on the side of Mount Banks that appear to have been molten at one time. Both contain stone spherules known as 'blueberries' on Mars. On Mount banks, the blueberries occur in alternate layers.
An aerial view of the three-way valley junction shows a definite pattern. Each arm is exactly the same for the first few kilometres, and on each arm of the junction sits a mountain: Mount Banks, Mount Hay, and Lockleys Pylon. All share similar characteristics: they resemble so-called 'lighting blisters' created by electric discharges on a positively charged surface or anode and look similar to Olympus Mons on Mars.
On Earth, water follows paths that were already there. So what can carve out a valley while slicing through the side of a mountain, leaving vertical sides? Perhaps the only method is a plasma discharge on an interplanetary scale.
Contributed by Garry Maxfield