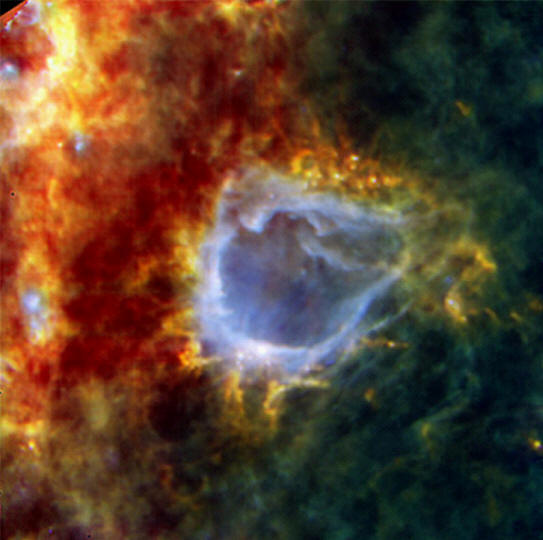 New stars are thought to be forming inside the wall of this "galactic bubble."
Credit: ESA/PACS/SPIRE/HOBYS Consortia


Massive Protostars

May
07, 20
10
Stars more than eight times the mass of the Sun are said to be born inside this "collapsing nebula."
On May 14, 2009, the European Space Agency (ESA) launched the Herschel Space Telescope from the Guiana Space Centre, Kourou, French Guiana. Both Herschel and the Planck spacecraft were onboard the Ariane 5 rocket, since they were both set to occupy independent orbits around a stable configuration known as LaGrange point L2. They were separated shortly after launch.
Herschel currently occupies a Lissajous orbit around L2, 1.5 million kilometers from Earth's night side. The telescope employs a 3.5 meter primary mirror, almost twice the size of the one on Hubble, coupled to infrared detectors that are cooled to temperatures near absolute zero.
According to a recent ESA press release, Herschel has been studying what are called "high-mass protostars" inside a nebula dubbed RCW 120. In the image at the top of the page, a bubble of gas and dust is seen, supposedly expanding outward because of the radiative pressure from a star in the center, increasing the density of material in the bubble's wall. The compression is said to have allowed new stars to form, since the increased density causes increased gravitational attraction among the particles, initiating the accepted process of star formation.
Astrophysicists continue to puzzle over the fact that some stars accrete more mass during their gestation than is theoretically possible. Since the collapsing cloud of gas and dust that gives birth to stars is supposed to envelop them in a fragile shell, a large formation should generate more radiation as it condenses than its structure can survive. In other words, the shell of gas and dust around those embryonic stars should blow away before that much mass can accumulate.
The most likely reason that the object Herschel has discovered does not obey the tenets of conventional theory is that it is not what astronomers think it is. The somewhat concentric filaments prompt plasma physicists to conclude that we are not seeing an expanding bubble in RCW 120, but are looking down into a Birkeland current "cable," pinching itself into an hourglass form that is creating and powering the central star. The instabilities within the nebula are plasma instabilities that can pull in material and compress it, as well as cause it to spin.
The toroidal filaments couple to the hourglass-shaped current sheets and are subject to diocotron instabilities: the current flow through the plasma will sometimes form vortices that can evolve into distorted curlicue shapes. This phenomenon has been witnessed in many laboratory experiments, as well as in the polar aurorae.
The bubble's temperature (infrared emissions) is also open to question. Most observable radiation in the cosmos is synchrotron radiation. Thermal radiation comes from random atomic collisions. Its peak wavelength corresponds to the temperature of the atoms. Synchrotron radiation is created by electrons moving in a magnetic field.
Since moving electrons constitute an electric current, and that current travels along a magnetic field, it is a "field-aligned current," otherwise known as a Birkeland current. Therefore, a Universe composed almost entirely of plasma, organized into Birkeland currents, will primarily emit synchrotron radiation and not thermal radiation. Synchrotron radiation provides no temperature information. Since it comes from a nonrandom process, "temperature" should not even enter into the equation.
The "massive protostars" in RCW 120 are most likely massive electric currents flowing through plasma.
Stephen Smith
Hat tip to James Parker