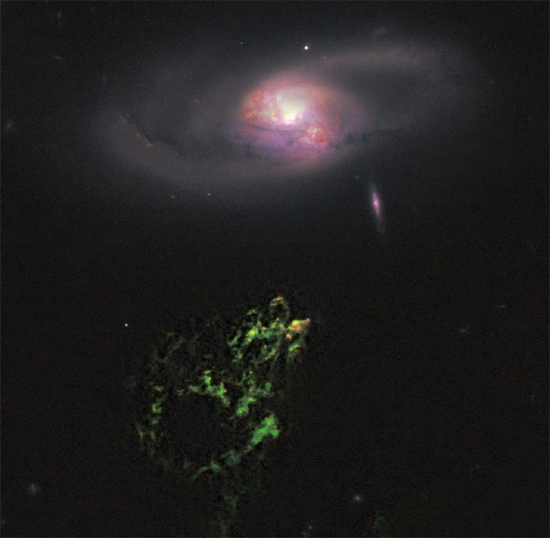 Galaxy IC 2497 and the ionized streamer called Hanny's Voorwerp. Original image credit:
NASA, ESA, William Keel (University of Alabama, Tuscaloosa), and the Galaxy Zoo team.


Hanny's Voorwerp
Aug 09, 2011
Astronomers are puzzled by this cloud's highly ionized state.
In 2007 Dutch Galaxy Zoo volunteer, Hanny van Arkel, discovered the gaseous formation that bears her name. The strange thing about it is its excessive heat and ionization. Some of its spectral lines indicate the presence of neon V. It requires 97 electron volts of energy to strip the electrons from neon, corresponding to about one million Kelvin.
A recent press release points to suggestions that only a quasar in the heart of nearby galaxy IC 2497 could generate the energy necessary to ionize neon, but no quasar can be seen there. Electric Universe proponents would like to see the electrical properties of plasma added to theoretical formulae rather than read about each new remote observation possessing "extraordinary properties" or providing "puzzling results" or revealing "mysterious events."
The filamentary nature of the Voorwerp is a clue to its electrically charged nature. Observations by the Subaru Space Telescope of galaxy NGC 4388 also uncovered ionized filaments extending 110,000 light years from its nucleus. It was previously thought that the hypothetical black hole in the galaxy's center could only ionize gas out to 50,000 light years, so the data is baffling to astrophysicists.
Another vast cloud of hydrogen gas known as Smith's Cloud, massive enough to be considered a galaxy itself, is also glowing in the light of ionized atoms but there are no stars there. One more example is VIRGOHI 21. It does not shine in visible light but hydrogen gas glows in radio waves, so its existence was revealed from a chance scan by the Arecibo Observatory. What is the common theme binding all these observations together? Electricity flowing through plasma.
Charged particles in motion constitute an electric current which take the form of plasma filaments. An electric current is accompanied by a magnetic field that wraps around the current filament, diminishing directly with the distance from it.
An electric current filament in plasma may create a double layer along its axis. Positive charge builds up on one side and negative charge on the other side of the double layer. A strong e-field exists between the two charge layers and if enough current is applied the double layer will glow, but it is otherwise detectable only by its emission of radio noise. Double layers and current filaments form in the circuit that threads through the galaxy. They are mostly invisible because of their low current density, but the magnetic fields they produce can be mapped by radio telescopes.
A lamp that emits light only at the excitation frequency of a specific gas is a more correct model for Hanny's Voorwerp. Electricity passing through neon gas causes it to form a plasma and to glow pale red. Other gases, such as oxygen, produce blue light, while heavier elements emit their own colors.
The helical filaments of the Voorwerp show that electricity, traveling along cosmic Birkeland currents, is energizing the cloud. The divergence between the Electric Universe model and the standard model is based on plasma, which comprises 99% of the Universe. Plasma tends to obey the laws of electromagnetism, so gravity and kinetic interactions are subsidiary.
Stephen Smith
Hat tip to Jim Johnson
---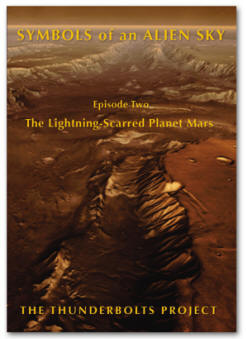 New DVD
The Lightning-Scarred Planet Mars
A video documentary that could change everything you thought you knew about ancient times and symbols. In this second episode of Symbols of an Alien Sky, David Talbott takes the viewer on an odyssey across the surface of Mars. Exploring feature after feature of the planet, he finds that only electric arcs could produce the observed patterns. The high resolution images reveal massive channels and gouges, great mounds, and crater chains, none finding an explanation in traditional geology, but all matching the scars from electric discharge experiments in the laboratory. (Approximately 85 minutes)