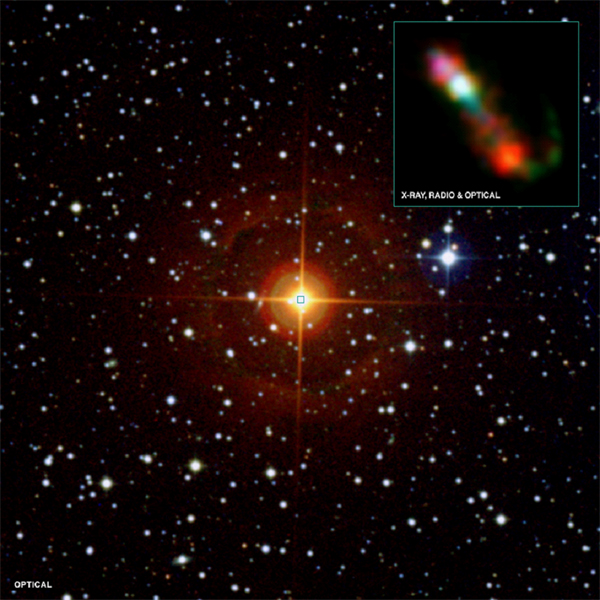 Credit: X-ray: NASA/CXC/SAO/M.Karovska et al; Optical: NASA/STScI;
Radio: NRAO/VLA]; Wide field [Optical (DSS)
CH Cygni in a Pinch

Jan 03, 201
1
Recent images of the star CH Cygni (composite image above) reveal the electrical circuitry that drives it. Radiation in radio (blue), optical (green), and x-ray (red) highlight the several inner components (inset) of the plasma discharge.
The outer red circle (large optical image) is composed of radial filaments. This is a region of increased density where the plasma has jumped into glow mode. It shows a cross section of the interstellar Birkeland cable as it pinches down to form the star. Its circularity indicates that we are viewing the star down the axis of the cable: The radial filaments appear foreshortened in consequence.
The string of green "sausages" in the "jet" near the center (inset) shows the narrowest region of the pinch as the current flows into the star. The increase in current density has again pushed the plasma into glow mode. Instabilities, called "sausage" instabilities, have caused secondary pinches to break the jet into cells. The curled shape is the result of viewing the current down the axis as it spirals around that axis.
The star at the center is a binary. Many stars in such "active" systems (where a surge in the interstellar current has caused the outlying components to "light up") are multiple. Often they are composed, as here, of a red giant and a (so-called) white dwarf. The details of their operation are explained toward the end of articles here and here.
Mel Acheson