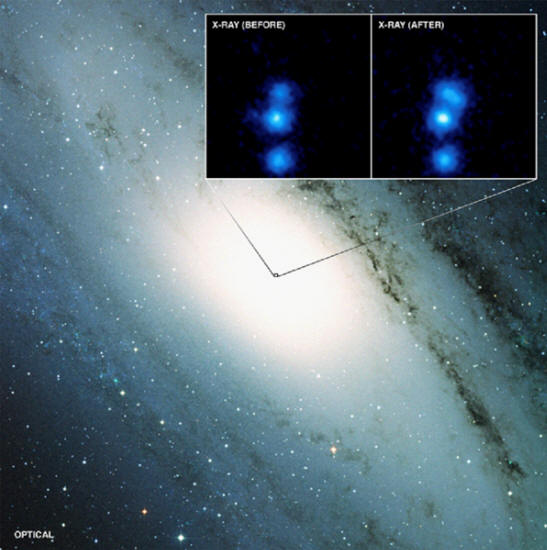 Optical and X-ray images of M31 (NGC 224), the Andromeda Galaxy.
Credit: X-ray (NASA/CXC/SAO/Li et al.), Optical (DSS).

Eyewitness to a Black Hole

Dec 02, 20
10
"Seeing is believing," so the saying goes. "Believing is seeing" seems to be closer to the truth.
The image above is an optical view of our neighboring galaxy M31, also called the Andromeda Galaxy. Inset are composite X-ray images of the center of the galaxy before (left) and after (right) January 2006.
The "after" image shows a new X-ray source below and to the right of the top source. Detailed examination indicates that a dim source suddenly brightened by more than a hundred times. According to the press release, this brightening is "suggesting an outburst of X-rays." (This is readily believed, considering that the image was taken in X-ray light.)
The release further informs the reader that the brightening was "produced by material falling onto the supermassive black hole in M31." This suggests that the reporter was an eyewitness to the event; one assumes he was wearing sunglasses. Yet even with this outburst, the source is "surprisingly…ten to one hundred thousand times fainter" than expected for such a black hole.
One should not make too much of press releases, of course. This does illustrate one of the problems with modern astronomy: actual observations are merely suggestive; the really true indubitable reality is the uncritical acceptance of a fashionable consensus theory that predicts a result that's wrong by 4 to 5 orders of magnitude.
In an Electric Universe, the homopolar circuitry of a galaxy feeds electrical power into a plasma focus mechanism at the core. Episodic discharges result in ejection of charged material accompanied by emission of X-rays. The power distribution follows the same pattern as a lightning bolt: sudden outburst followed by exponential decay. During "normal" times, the discharges are small. However, if there is a surge of power in the galaxy (as in active galaxies), the discharge may be cataclysmic, resulting in the ejection of quasars.
Mel Acheson