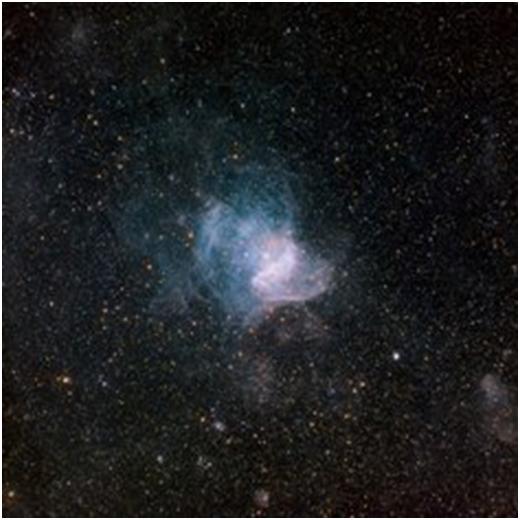 NGC 346. Credit: ESO
Hot Neon

Mar 01
, 20
10
NGC 346 (image above) is a cluster of stars immersed in glowing filaments of plasma. The
press release
sees in the new image "massive stars" that have thrown off "light, wind and heat," which has "dispersed the glowing gas."
Once again, astronomers see what they believe and talk about blowing hot air. The press release elaborates: "gas within [the nebula] has been heated up by stars until the gas emits its own light, just like the neon gas used in electric store signs."
One must wonder if the experts at ESO know how neon signs operate. Have they been so expertly conditioned by their years of indoctrination with gravity and gas that they are unaware of electricity as a natural phenomenon? One recalls the conference at which a well-known astronomer declared, "Of course there's electricity in space; it just doesn't do anything."
Neon signs are powered externally by a high-voltage source of electricity. Most people would guess that's why they're called "electric store signs." The strong electric field between the electrodes at each end of the tube ionizes the neon, and the continuous recombination and re-ionization of electrons and ions produces the light.
The electric current supplies the energy for the light, not some internal thermal source that has "heated up" the "gas." Thermal energy is due to random motions of atoms and molecules; in an electric current, electrons move toward one electrode, ions toward the other, and random motion is minimized. Hence, a cool "gas"—actually a plasma—can emit radiation. Converting the energy of that radiation into a "temperature" as though it were emitted by a thermal source is fundamentally misleading.
It is at this level of epistemic awareness (or unawareness!) that experts can be misled by what they believe into seeing what isn't there and not seeing what is. The difference between a neon light in space and a neon light in a store is the fervency of belief in applying Newton's Laws or Maxwell's Laws.
The choice of laws to apply to explain a phenomenon is determined more by conformity with politically dominant interests than by criteria of truth. Especially with phenomena in deep space, there are few if any consequences to explanations: a fib is as good as a truth, and getting along with one's colleagues becomes the only criterion that matters. Scientific truth is a thin layer of frosting on the cupcake of scientific politics.
The electricians who string wires through the store would be surprised to hear that the wires are only decorative: the neon signs are obviously powered by tiny nuclear furnaces in their hot, dense cores; the electricity in the wires doesn't "do anything."
But seeing wires in stores as decorative is "just like" seeing the filaments in NGC 346 as not "doing anything." An astronomer who is aware of plasma phenomena will see in this image Birkeland currents powering an "electric store sign" of the galaxy.


Mel Acheson