NASA Pseudo-skeptic Receives Rebuttal from Electric Universe Theorist

by Dr. Donald E. Scott
March 21, 2009
[Editor's note: On March 16 Dr. Donald E. Scott gave a presentation of electric universe concepts to a gathering at NASA's Goddard Space Flight Center, which appeared to be well-received by many of the attendees.

However there he met with pseudo-skeptic Dr. Tom Bridgman who had offered a "critique" of Scott's book The Electric Sky last year, and who, whilst 'personable' to Scott's face, has since written further pseudo-criticism of Scott's presentation. The following are a few excerpts from Scott's rebuttal of Bridgman's original "critique".]
When I first heard about Dr. Tom Bridgman's 48-page onslaught against me and the material I present in my book, The Electric Sky (TES), I thought I would simply ignore him. But friends I admire and trust have repeatedly implored me to take up my pen so that the casual reader of his criticisms will not assume I accept them. These following paragraphs are not a comprehensive dissection of each and every allegation he made. They are simply my reaction to what stood out as being most outrageously inaccurate, and uninformed.

Bridgman's 'critique' can be found here:
http://homepage.mac.com/cygnusx1/anomalies/ElectricSky_20080322.pdf

The following is my response to Bridgman (TB) roughly in the order in which he states his objections.
PULSARS
[On the top of his page 2] TB implies that I have proposed a "radically different model of pulsars". The notion that pulsar repetition rates are most probably due to an electrical oscillation rather than light-house-like massive stars rotating at 60,000 rpm or more is due, not to me, but to other investigators such as Healy & Peratt (see:
http://public.lanl.gov/alp/plasma/downloads/HealyPeratt1995.pdf

Those authors begin their (peer reviewed) paper with a review of the history of the discovery of pulsars and the classical theoretical descriptions of their behavior. They (H&P) performed a plasma supported transmission line experiment that duplicated some 17 detailed properties of those observed emissions. I have read their paper, discussed this with Peratt personally, and find much merit in what they say. Postulating this electrical mechanism as an explanation for observed pulsar emissions is far less of a stretch of one's sense of reality than proposing that an incredibly massive star rotates with the speed of a dentist's drill. But H&P's proposed model is, regrettably, not mine to take credit for.
MISREPRESENTATIONS OF WHAT I SAY
On his page 4 Bridgman states:

"Dr. Scott states that astronomers assume that the physical laws in the distant cosmos are different from those known on Earth (page 7)."

What I did say in part was this:
The hypotheses of these plasma scientists on the subjects of solar, stellar, and galactic behavior are careful extrapolations of their demonstrated experimental results and physical principles. They do not involve invisible matter or unseen forces or "new science" - claims that the laws of physics must be different out there in deep space (where we cannot falsify them) from what they are here on Earth.
I have indeed heard arguments that: "Just because something is falsified here on Earth doesn't mean it can't happen out in space." For example see the section of this rebuttal on the impossibility of neutron stars (below). His (TB's) claim that matter made up solely of neutrons can and does exist out in space despite the fact it cannot here on Earth is a case in point. He also mentions

"There are some searches for Dark Matter and Dark energy candidates that are being conducted in Earth laboratories."

I hope I live long enough to see positive results of these searches announced. I doubt I will.

[...]
IT LOOKS LIKE 'X' SO IT MUST BE 'X'
TB condemns my pointing out that a similarity in appearance of certain objects might indicate they have a common cause, e.g., the Grand Canyon and Lichtenberg patterns formed in grass by lightning strokes. He then goes on to say that Mark Twain

"noted how the [Mississippi] river course would change, with no reports of giant electric arcs."



There are many morphological characteristics of the Grand Canyon that are enigmatic for 'standard' geologists. Different from the Mississippi (and similar to Lichtenberg patterns), it has no delta, it is narrow at both ends, and its tributaries are as deep at their beginning points as they are when they join the main stream; many such tributaries join at right angles to the central valley. And, of course, it is a mile deep. Also, there is the old saying: "If it walks like a duck, and quacks like a duck……."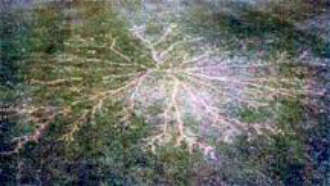 Figure 1. A Lichtenberg pattern etched in grass by lightning
– not to be confused with the Mississippi River Valley
[Click to enlarge]
[...]
MORE LIKE CREATIONISM THAN I EXPECTED
[p. 44] TB seems to take offense at the degree to which I talk about plasma when it is in the dark current mode of operation (Earth's ionosphere for example, or the outer interplanetary plasma, etc.). He states,

"...much of Scott's model hides connections behind 'invisible' dark currents. These 'Dark Currents' seem to fulfill in Scott's 'theology' the role of God in creationist claims as a form of invisible agent."



I submit this comment, coming from a staunch supporter of Fairie Dust [Fabricated Ad hoc Inventions Repeatedly Invoked in Efforts to Defend Untenable Scientific Theories] entities such as Black Holes, Dark Energy, Dark Matter, and Neutron Stars, is the epitome of hypocrisy. In his zeal to play Citizen Robespierre to anything that challenges his belief structure, he seems to see the Ghost of Creationism lurking everywhere – even when it is clearly not.

Does he feel no unease that it was Georges Lemaître, a Roman Catholic priest, who was one of the inventors of his beloved Big Bang Myth? It is well known that one of the early general appeals of the BB was that it bridged the gap between 'science' and 'faith'. When the big bang theory was first heralded, Pope Pius XII wrote,

"Scientists are beginning to find the finger of God in the creation of the universe."



On p 28 of TES I said:
Alfvén commented on Lemaître's proposal: "The appeal of the Big Bang has been more ideological than scientific. When men think about the universe, there is always a conflict between the mythical approach and the empirical scientific approach. In myth, one tries to deduce how the gods must have created the world – what perfect principles must have been used."

It is not the purpose of this book to denigrate the Almighty. We simply contend that we do not need a spiritual argument to explain the sky. It's not that supernatural. The real cosmos is not invisible, immeasurable, or unknowable. We simply must use our eyes, our brains, and the work product of the last hundred years of serious electrical science. If we do so, we shall see through the mystifying fog.
After reading those paragraphs, TB's describing my work, as being a 'theology', is a low-blow. Gratuitous comments such as this are an indication that his urge to attack me has overcome his reason. It is modern astrophysics that demands its followers 'believe' in unseen, immeasurable entities such as WIMPS, MACHOs, Dark Matter, and Inflatons as a matter of 'faith' without proof. The reification of abstractions such as point-masses, magnetic field lines, and mathematical singularities into real entities that can have an effect on matter in real space are classic theological transmogrifications - miracles. If TB wants to see a supporter of this species of Creationism, he can simply look in a mirror.

[...]
CONCLUSION
Astrophysics pseudo-skeptics like Bridgman have certain recognizable characteristics in common.
They speak down to their audience using 'arguments from authority'.
They refuse to consider any electrical causation for anything in space.
When confronted with =in your face evidence' such as the image of a high redshifted QSO in front of a more distant, low redshifted galaxy, they resort to arguments (usually involving math or statistics) to disprove – or at least make you doubt – what your eyes are telling you. The old Groucho Marx line comes to mind:

"Who you gonna believe? Me? Or your lying eyes?"

They put forward their assumptions as if they were universal truths. The fact that they have been voted upon and accepted by a self-involved, insular group of 'experts' does not make them true. Winning a hand vote is not the same thing as scientific validation.
It is clear that they have never been exposed to the basic properties of plasma nor the fundamental inter-relationships between magnetic fields and electric currents. But they feel free to lecture those who have.
If the pseudo-skeptic has a monetary interest (such as maintaining a funding stream or a salary) his criticisms often become vituperative.
[...]

Because I see no willingness on Bridgman's part to discuss things calmly, with mutual respect, he remains, in my view, simply one more pseudo-skeptic who claims to know-it-all – not an open minded scientist.

Don Scott

[Editor's note:

As noted above, these are just a few excerpts from the rebuttal which covers the following topics:
PULSARS
MISREPRESENTATIONS OF WHAT I SAY
THE (NON)USEFUL PRODUCTS OF ASTROPHYSICS
THE IMPORTANCE OF IN SITU MEASUREMENTS
TRUSTING MATHEMATICAL MODELS
IT LOOKS LIKE 'X' SO IT MUST BE 'X'
AD HOMINEM ATTACKS
GRAVITATIONAL LENSING
GENERAL RELATIVITY DOES INCLUDE ELECTROMAGNETISM
NAKED SINGULARITIES ARE NOT BLACK HOLES
OUTFLOWS FROM ACCRETING BLACK HOLES ARE NOT HAWKING RADIATION
GRAVITY VS ELECTRICITY
SOLAR AND NUCLEAR ENERGY ERRORS
MISSING NEUTRINOS
NUCLEAR REACTIONS IN SOLAR FLARES
POWERING THE SUN FROM THE OUTSIDE
SUN'S MAGNETIC FIELD
CURRENTS IN SPACE
SOLAR ELECTRON VELOCITIES
MISCELLANEOUS SOLAR SILLINESS
CRATER FORMATION
DARK MATTER
THE WMAP MAP
DOUBLE LAYERS
MAGNETIC FIELDS EASIER TO MEASURE
OPEN MAGNETIC FIELD LINES
RECONNECTION
NEUTRON STARS
LACK OF MATHEMATICS
NON-NUMERICAL AXES
LUMPED CIRCUIT ELEMENTS
WHERE DOES THE ENERGY COME FROM?
MORE LIKE CREATIONISM THAN I EXPECTED
BINARY POWERED PULSARS
OBSERVATIONS
CONCLUSION
A full copy of Dr. Scott's rebuttal in pdf format can be obtained here]
Permalink to this article.



Public comment may be made on this article on the
Thunderbolts Forum/Thunderblogs (free membership required).

For an overview of Don Scott's book please visit: The Electric Sky