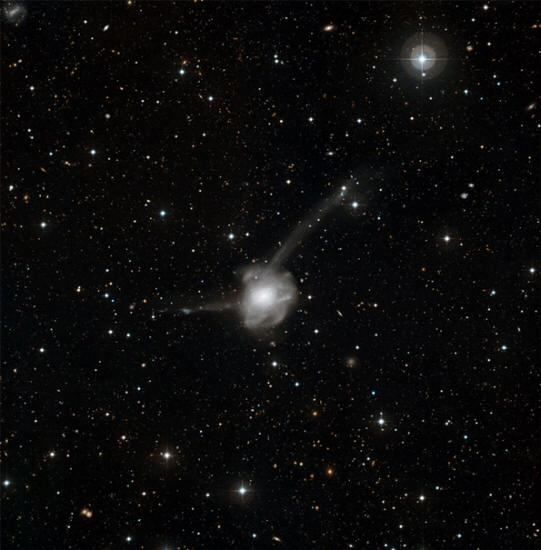 NGC 7252 the "Atoms for Peace" galaxy. Credit: ESO


Colliding Conceits

Nov
26, 2010
Galaxies with peculiar shapes are presumed to be the result of collisions.
The study of one such presumed galactic collision, imaged above, number 226 in Halton Arp's Catalog of Peculiar Galaxies, begins after the presumption is made and without awareness of or doubt about having made it.
The astronomically trained eye can see immediately "the chaos in full flow … in the shapes of the tails [and] the incredible shells that formed as gas and stars were ripped out of colliding galaxies and wrapped around their joint core." Arp 226's shape is distorted (from what astronomers assume is "normal" spiral and elliptical forms) and its radiation is high-energy (from what the normal forms produce). What else could it be but a collision?
Unfortunately, the astronomically trained eye is connected directly to a consensus-indoctrinated mind. Making explicit the parts of the above sentence that are omitted, we end up with an interrogatory conditional instead of an expository categorical: If gravity is the only force that generates galactic form, what else could Arp 226 be but a collision?
Making the "if" explicit raises the terrifying proposition that the astronomical work of a century or two—including next month's paycheck—was misdirected. That "if" frees the indoctrinated mind to see:
* collimated jets that don't expand into the cold vacuum of space as hot gas emissions would;
* helical filaments with knots that are impossible with gravity alone;
* cells of plasma bounded with double layers that will behave differently from bubbles of gas left by acoustic shock waves.
Collisions in space run afoul of the very gravity that is supposed to produce them. If bodies are orbiting around each other, they'll go around and not collide.
Bodies in the same or near orbits will avoid each other: As their gravitational attraction pulls them together, one will speed up and the other will slow down; the change in energy will push the former into a larger orbit, the latter into a smaller orbit; and they will oscillate around each other, as the Earth and Moon do around the Sun.
If bodies "target" each other on intersecting orbits, the orbits must be greatly divergent and the bodies must have excellent "aim." At galactic distances, the target is minuscule and the chance of random alignment with the equally minuscule "bullet" is next to impossible.
A plasma discharge, on the other hand, can produce all these gravitationally anomalous and impossible forms and behaviors before taking its morning cup of coffee. Electromagnetic forces that are coextensive with the discharge squeeze the current channel into a thin filament. Filaments tend to combine in pairs to twist around a common axis, generating a helix shape. Instabilities in the current can pinch it into bright knots.
Persistent currents are parts of circuits, and modern telescopes can trace these connections within and between galaxies by their X-ray and radio emissions.
Whether gravity is the only force that generates galactic form, Arp 226 is not likely to be two galaxies colliding in empty space. If plasma is recognized, it is a distorted fragment of a much larger discharge from some nearby active galaxy. (The Sculptor Group is nearby.) The only collision involved is that of consensus presumptions with reality.
Mel Acheson