Symbols of an Alien Sky
- Comparative Mythology Comes of Age
by Dave Smith
October 24, 2009
A review of the just released DVD "Symbols of an Alien Sky".

Comparative mythology steps out from the shadows with this provocative video presentation, filled with sweeping visual images, memories of planetary catastrophe, and spectacular plasma discharge formations in the skies above ancient witnesses.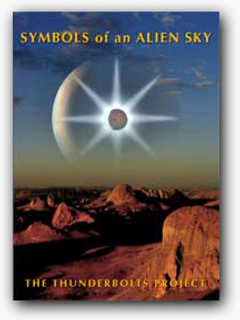 Symbols of an Alien Sky DVD
Written and narrated by David Talbott and presented by The Thunderbolts Project, this 78 minute DVD is just the first in an envisioned three-part series. But it will keep you captivated from start to finish.

Symbols is everything it promises and more. Taken as a whole the evidence presented, gathered from around the world, is almost unbelievably consistent, and in the end the logic of the argument is overwhelming. In their own words, scholars and scientists viewing the DVD have been captivated and enthralled, eager to know more. And if you think you've seen this presentation by watching the 10 minute "rough-cut" segments which have been available on YouTube for some time, think again!

I would not hesitate, even for a second, to show this DVD to ANYONE who walked through my door, had they even the remotest interest in religion, culture, or science.  There is absolutely nothing to hesitate about, no unsubstantiated claims, and it is, quite simply, the most provocative documentary I have ever seen on this multidisciplinary topic.
I've watched the video and I consider the presentation and visual imagery to be a quantum leap up from anything that has been done previously on the Saturn model of prehistory. It cries out for an Imax film presentation to engrave deep into our psyches the most important yet misunderstood message from our ancestors. That message has the potential to awake us from our primitive nightmares and irrational compulsions and allow us to see clearly and for the first time our real situation in this amazing electric universe.
- Wal Thornhill.
Physicist and Electric Universe theorist.
On the face of it, the "Saturn theory"*, as it has come to be known, seems nothing short of preposterous. But view the evidence collected and collated in this video, and the explanatory power, exposed through rigorous comparative analysis, is beyond anything one might imagine prior to viewing the presentation.

For one culture to come up with a wild story would be simply a curiosity. For cultures spanning the whole globe to come up with the same combinations of underlying stories and symbols is far beyond coincidence. The convergence can only speak for a common experience that we've failed to properly discern.

It is this striking "sameness" which constitutes the heart of the Saturn theory. Talbott uses the term "archetypes" to describe the points of agreement between cultures separated in many cases by vast distances and a lack of communicative technology. It is these archetypes that he brings together under a forensic methodology, leaving no possibility that mere coincidence could have spawned them. That is the foundation of his radical theory of planetary catastrophe and electrical dramas in the sky. From the physics of planetary motion to the very basis of the world's many religious symbols and cultural stories, Symbols of an Alien Sky will challenge innumerable, long-held beliefs and assumptions.
It is not possible to devote as much time and attention as I think I should to researching the mythological aspects of Electric Universe theory. Dave Talbott's tireless efforts in that vein have, over the years, satisfied that need by creating exceptional pieces in a variety of media. Symbols of an Alien Sky tops them all. It is a visually compelling, informationally dense presentation that is sure to become a resource for investigators in several fields of study.
- Stephen Smith.
Managing Editor, Thunderbolts Picture of the Day.
Symbols is densely packed with vital facts and images. You will never see another documentary with as much new information as you'll see here. To many this density will be daunting, perhaps too much to absorb in one sitting. Viewers tell us that it is frequently only on the second or third viewing that the full integrity of the hypothesis comes to light. But you need all of the information in this documentary to be able to make a reasonable assessment of the evidential power you are witnessing. And keep in mind: this is just an introduction, with more to follow.

If you are in any way troubled by the state of the theoretical sciences today, here is something well worth thinking about. Nothing could reanimate these sciences more than the convergence of the Electric Universe theory with this reconstruction of ancient history. The described events are simply inconceivable - unless we live in an Electric Universe.

The message is uncompromising for the culture of science, which has, by progressive degrees, become boring and dogmatic, leaving no space for the epiphanies that drove the sciences in the past. Educational institutions now ask how they can inspire more young people to investigate the sciences. After viewing Symbols, mathematician and physicist (retired) Professor Jeremy Dunning Davies of Hull University wonders aloud about the training of our young physicists:
Amazing!!!

I confess to knowing too little about mythology. Yes; I know a number of rather disjointed facts but little in a continuous picture. I suppose it's something that hasn't really grabbed my attention before this. However, this film held me fascinated and enthralled. So much so that I want to learn more ... I feel it would be good for physics' undergraduates to see this ... It raises so many important basic questions; questions undergraduates should be asking.


- Dr. Jeremy Dunning-Davies, astrophysicist.
Is it possible to break out of the ideological hold - the dogma - of modern cosmology to show something from outside the field, something of sufficient impact to shake them out of their ideological imprisonment? I now believe that it is.

Yet this is only the tip of the iceberg! No-one who watches this first episode will want to miss the next instalments, bringing together new revelations from the plasma sciences and from a scientific investigation of ancient images carved on stone, discoveries beyond anything that even the researchers themselves anticipated just ten years ago.
Symbols of an Alien Sky transcends all expectations through its presentation of the fantastic images imprinted by planets at close quarters that ancient man must have witnessed spreading across Earth's primordial sky, and the symbolic interpretation of all that he saw. Kudos to David Talbott for the production of this fascinating and immensely educational documentary. It explains so much. I, for one, am eagerly looking forward to its follow-up.
- Dwardu Cardona.
Author God Star, Flare Star, and Primordial Star.
People have often enquired of me what mythology has to do with plasma science or the Electric Universe. Until now it has been somewhat difficult to explain the connection.  But now all I have to do is show them the DVD and they see the obvious. They understand why it is that individuals well trained in the sciences are attracted to something as "preposterous" as the Saturn theory. They also see that there is much more here than a challenge to conventional science. Odds are they will come to view the world's cultural and religious traditions in an entirely new light. Though the information can be grasped by any intelligent viewer, I particularly urge those with training in the sciences - and an open mind, of course - to view this DVD. These viewers will ultimately grow to a crowd, insisting that science cannot afford to ignore this fundamental challenge. 
Symbols of an Alien Sky leaves no doubt that Dave Talbott's lifelong efforts to categorize and lend understanding to the multitude of relics and myths from humanity's deepest past have been prodigious. In this production he presents identical symbols from all over the world - from cultures that had no awareness of each other - that clearly tell the same astounding story.

Talbott has made sense out of a huge collection of ancient artwork and archetypes that, here-to-fore, the authorities in history, archaeology, and anthropology have discarded as being meaningless. For the viewer, it is like taking off a blindfold after a lifetime of being forced to wear one.
- Dr. Don Scott
Professor of Electrical Engineering (retired).
Author, The Electric Sky.
For myself, I can say without qualification that never before has so much explanatory power been delivered in a single package. View this DVD and you'll be chafing at the bit to get hold of the next one. Of that I am sure.

Dave Smith.

[*The phrase "Saturn theory" is somewhat generic and has been adopted by several people who have different approaches to the material. References elsewhere must be clearly delineated from those expressed by the Thunderbolts Project.]
Permalink to this article.



Public comment may be made on this article on the
Thunderbolts Forum/Thunderblogs (free membership required).

For a comprehensive central repository of links to study Plasma Cosmology/Electric Universe please visit: PlasmaResources.com