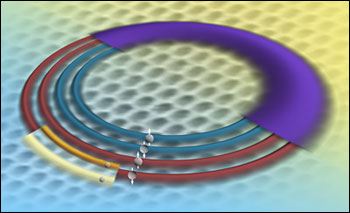 This artist's rendition illustrates the electron energy levels in graphene as revealed by a unique NIST instrument. Because of graphene's properties, an electron in any given energy level (the wide, purple band) comprises four quantum states (the four rings), called a "quartet." This quartet of levels split into different energies when immersed in a magnetic field. The two smaller bands on the outermost ring represent the further splitting of a graphene electronic state. (Image: Kelly Talbott/NIST)
electrons in graphene act as if they have no mass

and are almost 100 times more mobile than in silicon. Also, the speed with which electrons move through graphene is not related to their energy, unlike materials such as silicon where more voltage must be applied to increase their speed, which creates heat that is detrimental to most applications.
... with an unprecedented combination of low temperature (as low as 10 mK, or 10 thousandths of a degree above absolute zero),

ultrahigh vacuum and high magnetic field

. In the first measurements made with this instrument, the team has used its power to resolve the finest differences in the electron energies in graphene, atom-by-atom.

... an

electron in any given energy level populates four possible sublevels, called a "quartet.

" Theorists have predicted that this quartet of levels would split into different energies when immersed in a magnetic field, but until recently there had not been an instrument sensitive enough to resolve these differences.

... according to Stroscio,

appears to be a many-body effect

, in which electrons interact strongly with one another in ways that affect their energy levels.

One possible explanation for this behavior is that the electrons have formed a condensate — they cease moving independently of one another and act as a single coordinated unit.
http://www.nist.gov/index.html
'B-photon' emissions retarded by cooling and "many-body" movement entrained by magnetic flux ?
~