Apologies to MGmirkin for deviating even further from your original topic here; but what I was trying to illustrate above has now congealed into a positive suggestion: Would somebody with the appropriate authority consider beginning a new folder (not just a single thread) dedicated to the examination, discussion (and correction, where required) of some of APOD's suitable (past, present and future) Pictures Of the Day - something like "APODs - Details, Anomalies, Misinterpretations & Misunderstandings"?
I'm sure such a folder would be of permanent interest.
It all fell into place as I was studying the obviously electrically-induced details of APOD's Crab Nebula yesterday (below), and was amused to click one of their links (CAPS) and discover, like Neddy Seagoon, that APOD's 'officially-sanctioned' interpretation of reality is "all in the mind, folks!"
-----------------------------------------------------
2008 February 17: M1: The Crab Nebula from Hubble
-----------------------------------------------------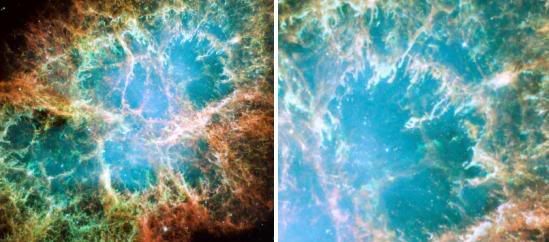 http://antwrp.gsfc.nasa.gov/apod/ap080217.html
M1 The Crab Nebula from Hubble
Image Credit: NASA, ESA, J. Hester, A. Loll (ASU); Acknowledgement: Davide De Martin (Skyfactory)
Explanation: This is the mess that is left when a star explodes. The Crab Nebula, the result of a supernova seen in 1054 AD, is filled with MYSTERIOUS filaments. The filaments are not only tremendously complex, but appear to have less mass than expelled in the original supernova and a higher speed than expected from a free explosion. The above image, taken by the Hubble Space Telescope, is presented in three colors chosen for scientific interest. The Crab Nebula spans about 10 light-years. In the nebula's very center lies a pulsar: a neutron star as massive as the Sun but with only the size of a small town. The Crab Pulsar rotates about 30 times each second.
MYSTERIOUS filaments:
http://www.youtube.com/watch?v=f3A4CRoQA3A