I'd like to see a detailed reckoning of all the pieces of jumbled crust as mountain ranges (only those known, not
estimated
to be 'sub ducted') and gaps in fjords and between islands to be mapped in 3D then see how the puzzle comes together on a smaller sphere.
If one assumes the earth is still growing today at rates the ocean floor indicates, perhaps volcanic activity and earthquakes tell us where and can offer some illumination of the process.
Earthquake epicenters 1963-1998: Image courtesy of NASA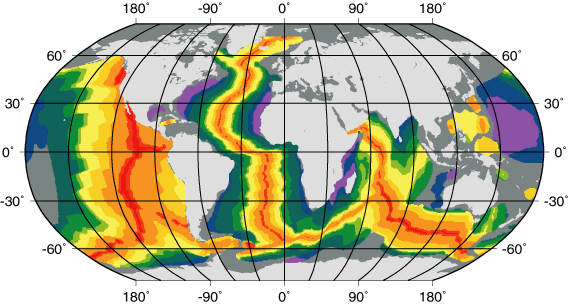 Age of Ocean Floor
Science Daily 0308: Layers Of Once Molten Rock Under The Atlantic Ocean Mapped
One could see things as: material added near the surface in ocean faults where mountains are not formed (usually) because of expansion, or material added near the surface under continents where due to the continent being limiting to lateral expansion, more material is pushed upwards (creating mountain ranges).
ScienceDaily, 0208: Geophysicists Show That Crust Temperature Variation Explains Half Of Elevation Differences In North America