The duty of the man who investigates the writings of scientists, if learning the truth is his goal, is to make himself an enemy of all that he reads, and ... attack it from every side. He should also suspect himself as he performs his critical examination of it, so that he may avoid falling into either prejudice or leniency.
— Alhazen
Ibn al-Haytham
https://en.wikipedia.org/wiki/Ibn_al-Haytham
Alhazen was a believer in the scientific method. "Prove what you believe!"
Well, it is impossible to prove what I believe when NASA will not perform the experiments that would prove what they apparently believe, and which they have lead everyone else to believe as regards to what is visible to the human eye from space. I have made many enemies amongst the mainstream purveyors of scientific 'fact' by asking them for proof of their claims. This has lead to being banned from most of their web sites, or having questions deleted, hidden from view by some devious practices, or simply ignored.
As the words of the astronauts who have been to deep space do not seem to be believed, perhaps it would be possible then to use the scientific information that has been collected from some space based missions to scientifically and mathematically prove that from outside of Earths atmosphere our eyes would not be able to see the stars, planets, or even the Sun?
Earth and Moon from Galileo SSI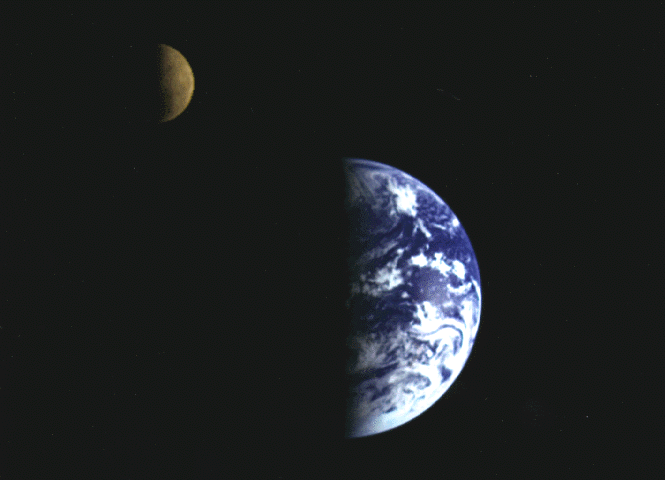 I have embarked then on the task of using the Galileo mission spacecraft and the Solid State Imager that it carried in an attempt to show that the number of photons captured by the device in a given time would not be sufficient to produce the conscious awareness of any of the objects it detected due to an insufficient photon flux, and based on scientific experimentation which have determined the minimum number of photons required.
I have chosen the Galileo ISS as it was the first solid state imager to be sent out into the void, there are technical descriptions of its functions and capabilities, and the raw data from the mission is available online.
Already it is apparent that it is not such a simple task. The data is in a format that does not allow it to simply be downloaded and viewed with readily available software. As well as the image files, many gigabytes of calibration files must be downloaded and incorporated in order to make the images usable. To begin with I will be looking at some of the early mission images, obtained when Galileo was still in close proximity to Earth and undergoing testing and calibration, and viewing the Earth, Moon, and Venus.
The first images I will be attempting to decode are of the Moon as I see from the data file information that an 8 second exposure was used for some of them. This is a very long exposure for such a sensitive instrument when my old digital camera EXIF file shows a 1/120 sec exposure at ISO 100 to properly capture an image of the full moon. 8 seconds with the SSI would surely show a washed out Moon and some stars in the Lunar background?
My investigations so far have also raised some questions about the use of the Moon as a calibration light source for Earth orbiting spacecraft that are looking at the Earth from a high orbit, but seem unable to show us images of the Moon from such orbits. Had Alhazen been around today, I think he too would have been demanding the science and experiments required to offer proof of what we are being told about the visibility of the heavens from outside of Earths atmosphere.