Prof René-Louis Vallée Synergetic was a plasma researcher in a French tokamak in Fontenay aux Roses.
He describes a 1973 experiment in which, by sending a 5V (300kA) discharge through a plasma, the plasma emitted Beta radiation with energy levels of >6MeV. He describes that there was no theory or compute power available to explain the result and assumes the results must be nuclear, caused by impurities in the plasma.
Based on these and other observations he developed his "Synergetic theory" that states that all forces are finally ElectroMagnetic in nature and that space itself is filled with a very high energy density that can be captured with the described nuclear effects (tapping zero-point energy as others would describe it). Both statements are in line with shared opinions on this forum.
I have always felt unable to judge this work since I miss the knowledge of the plasma behaviour and the nuclear reactions he describes. Also most of the work is in French and I might not understand the precise language statements. I was hoping that the forum could help to understand the mechanism and whether it can be explained by our common plasma knowledge.
A two page outline of Synergetic theory is given here: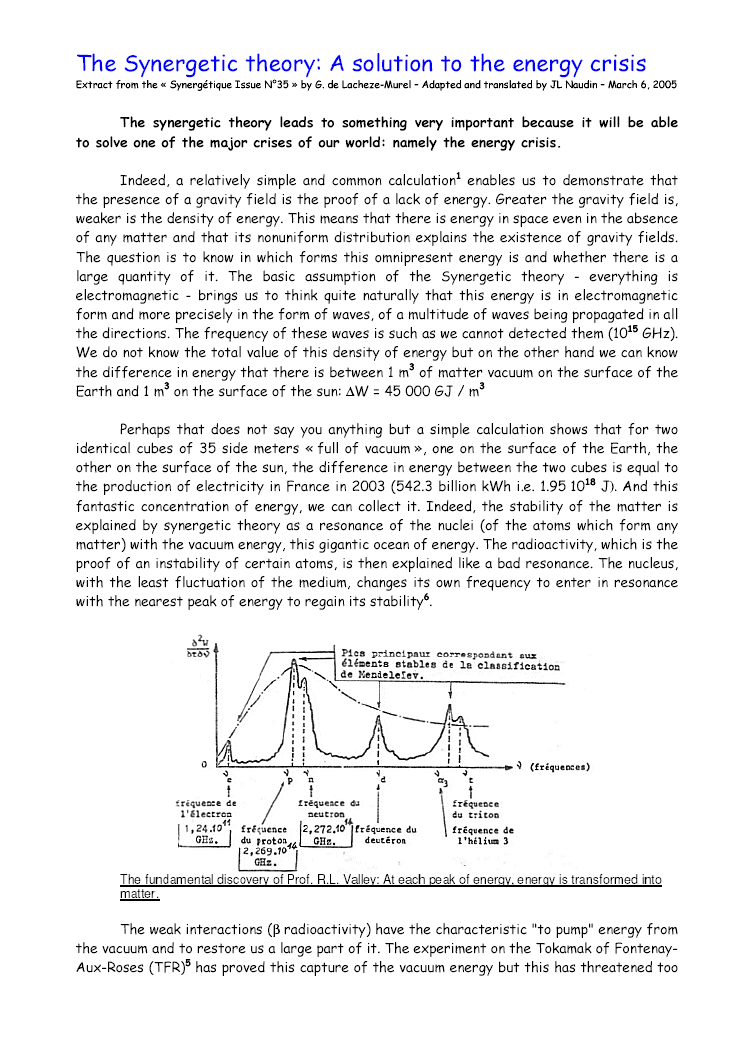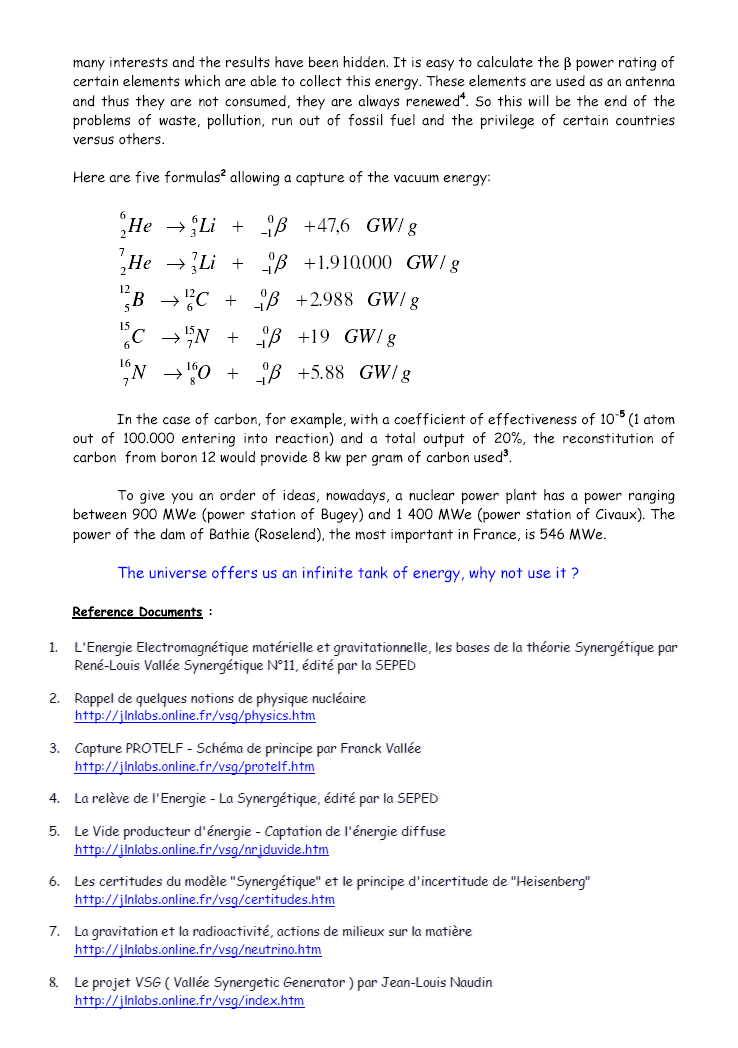 Experiments were done by J.L Naudin for energy harvesting through the transmutation of carbon, however not with a decisive result. I have all the equipment needed to repeat these experiments and would appreciate suggestions to improve the experiments as described by Jean-Louis.
I found this simplified description of his "Proton-Electron Fusion " process (please note this is not from Prof. Vallee but from a student):
1. An orbiting electron
2. An co-aligned electric and magnetic field compensate the electron EM energy
3. A gamma ray will compensate the electrons kinetic energy
4. As a result the electron will merge with the nucleus
5. Forming an unstable atom of lower atomic number
6. The transmutation back releases an energetic electron by absorption of an anti-neutrino (== diffuse energy from vacuum)
Please don't judge the process on this simple description. A more detailed technical explanation by prof. Vallee is given here:
http://jlnlabs.online.fr/vsg/protelf.htm
Here are the webpages and experiments from J.L. Naudin:
http://jlnlabs.online.fr/vsg/index.htm
This is a website maintained by his family to retain the legacy:
http://franckvallee.free.fr/localhost/plain.html
Anybody able give a professional judgement or ask the right questions?