Still going strong, albeit a bit faded.
A little more than a month after a mystery-object crashed into Jupiter, the debris cloud is still visible in backyard telescopes. Amateur astronomer Brian Combs of Buena Vista, Georgia, took this picture on August 19th: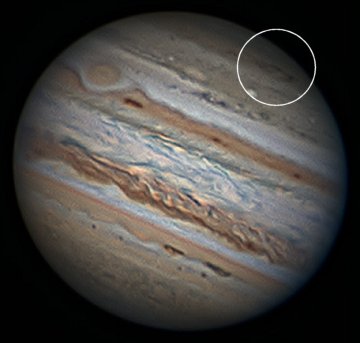 When Australian astrophotographer Anthony Wesley discovered the debris cloud on July 19th, it was about the size of many other small storms dotting Jupiter's upper atmosphere. Since then, the compact black mark has expanded into an enormous swirl rivaling the girth of the Great Red Spot itself. Unfortunately, as the cloud has expanded it has also faded, and its pale markings could soon disappear altogether. Continued monitoring is encouraged.
Where are those multi-spectral images they said were going to be taken? Are we just waiting for processing or is there something they can't figure out?