Posted: Tue Nov 13, 2007 2:35 pm Post subject: size comparison holmes Reply with quote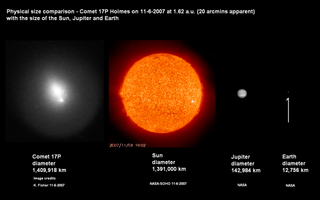 http://spaceweather.com/comets/holmes/0 ... isher1.jpg
Kurt Allen Fisher,
Salt Lake City, Utah
Nov. 6, 2007
Shocked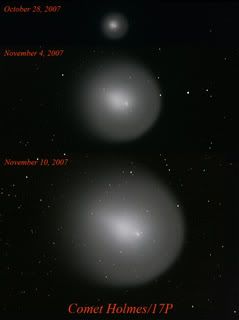 http://www.spaceweather.com/comets/holm ... 687906.jpg
Quote:
from Mike Borman of Evansville, Indiana
nice structure in tail before detachment.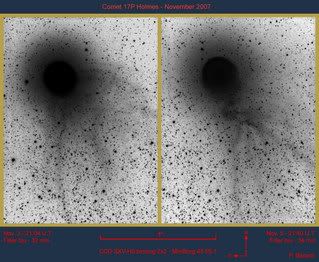 http://www.spaceweather.com/comets/holm ... rardi1.jpg
Quote:
Mutability of ion tail. Major changes of shape take place every day. On the left, comet appearance on November 3, right-hand side show the same on November 5. I use negative images to enhance delicate details. I took these photos through a Miniborg 45 refractor with a Starlight Xpress SXV-H9 monocromatic CCD and a blu filter, from a suburban area near centre of Italy.
Paolo Berardi,
L'Aquila, Italy
Nov. 5, 2007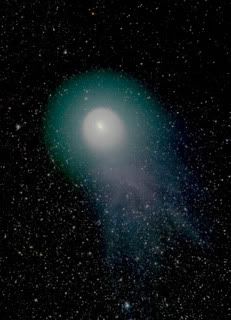 http://www.spaceweather.com/comets/holm ... Jones1.jpg
Quote:
Stacked & Composited from almost 4 hours of data to show details from core to tail streamers. Clouds limited imaging time. Canon 20D 100-400L @400mm f5.6 ISO1600 initial processing in Iris.
AnnMarie Jones,
Aberllefenni, Wales, UK
Nov. 5, 2007
PostPosted: Tue Nov 13, 2007 3:57 pm
brought to you by the CELIAS/MTOF Proton Monitor on the SOHO Spacecraft
MTOF/PM Data by Carrington Rotation
2062 2007 Oct 08 0255 2007 Nov 04 0959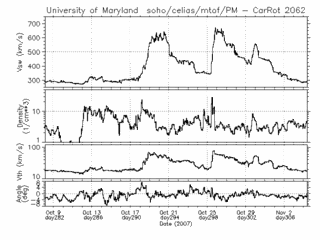 http://umtof.umd.edu/pm/crn/CRN_2062_B2.GIF
From top to bottom, the 4 panels represent the following solar wind proton parameters:
1) the bulk speed in kilometers per second
2) the density (protons per cm3)
3) the most probable thermal speed (km/sec) = Sqrt(2kT/m)
4) the flow direction in the plane perpendicular to the ecliptic plane, with positive values indicating flow FROM the south. On rare occassions the spacecraft's roll angle is changed for brief periods, during which the derived flow direction will refer to a different plane. A list of such times is available.
http://umtof.umd.edu/pm/