Found this on Cavitation in Hydrocarbons. Plasma and Cavitation has been mentioned here at Thunderbolts before.
Cavitation is usually produced by Ultrasound (quartz crystals):
http://www.thunderbolts.info/forum/phpB ... 6&start=30
http://www.quantum-vortex.com/Cavitatio ... acking.pdf

2012 Quantum Potential Corporation

Background

Crude Oil

Refining Crude oil is a natural mixture of a wide variety of light and heavy hydrocarbons such as paraffins, naphthenes, aromatics, and asphaltenes, which must be separated (e. g. distilled ) from the crude. Distillation based oil refining to this day remains to be the main step in petroleum processing and the core process of every refinery operation. Distillation amounts to heating of crude with subsequent evaporated fraction condensation in a distillation tower. Light fractions such as gasoline, kerosene, and diesel are given higher priority due to their immense economical importance since they form the basis of virtually all motor fuels. Unfortunately, straight run distillation yields only 25-35% gasoline while transportation demands alone require at least 50% yield of gasoline from crude [1]. To recover additional gasoline the distilled heavier fractions (heavy oil to bitumen) are subjected to thermal or catalytic cracking, which amounts to heating to 450-650°C in the presence of catalyst powder (such as alumina) with subsequent vapor condensation in a distillation tower. The catalytic cracking (or its variations such as hydrocracking or steam cracking) allows boosting gasoline yield to 50% with the remaining fractions corresponding to kerosene (~5%), light & heavy fuel oil (~34%), and ~10% of the residuals such as bitumen, asphalt and coke [2]. In most cases the catalytic cracking allows recovering all but 5-10% of useful hydrocarbons locked in crude oil. However, not all refineries are equipped with the state of the art catalytic cracking systems as companies often lack capital or incentives to upgrade to the latest technological process. For instance, in Russia only 43% of refineries are outfitted with the lat est catalytic cracking technology versus 58% of the U.S. and 76% of Japanese refineries [3]. Typical capital expenditures associated with the construction of state of the art refinery outfitted with catalytic cracking could be in excess of $1 billion USD. Clearly, large capital expenditures required for catalytic cracking equipment as well as substantial energy requirements for powering of the catalytic cracking process and high maintenance costs (e.g. the catalyst and the furnaces are susceptible to coking) negatively impact the economics of the light fraction recovery. Moreover the worldwide depletion of light sweet crude reserves forces petroleum companies to extract more and more of heavier crude, which in turn either yields less light fractions during the refining process or requires larger energy input and more expensive technology to recover the same amount of light fractions as from the light crude. Clearly, other economically viable alternatives for boosting the light fraction yield from crude and other opportunities to maximizing the efficiency of the tower bottom residue processing ( such as heavy fuel oil, bitumen and asphalt ) must be explored. Hydrodynamic cavitation cracking is one such alternative.

Cavitation and Sonochemistry

Cavitation induced chemical processing was originally developed in Russia in the early 1960s [4]. Cavitation is a process of bubble formation in liquids subjected to variable pressure. Cavitation occurs when pressure of the liquid falls below its vapor pressure and is characterized by a high temperature (104 K typical, 105 K and higher possible) and high pressure ( 10-100MPa) occurring with in the cavitation induced collapsing bubbles [5,6]. Cavitation forms the basis of sonoluminescence – the process by which cavitation bubbles give off visible light, and sonochemistry, the discipline for studying acoustically induced chemical reactions [7]. The physics and chemistry of ultrasound induced inorganic chemical reactions is well understood and amounts to reaction activation due to locally increased temperature and pressure and molecular radicalization due to molecular disassociation that occurs within the cores of the collapsing cavitation bubbles. While sonochemistry of inorganic liquids is well studied, sonolysis of hydrocarbons is less studied and the sonochemistry of solutes dissolved in organic liquids remains largely unexplored [7]. Ironically, because of the rising energy costs applications of sonochemistry to hydrocarbon resource processing corresponds to the area of science with the largest practical importance. Regardless of the type of the processed liquid (or a mixture of liquids) these are the most common effects of cavitation [4, 7, 8]:

-Homogenization of liquids (important for emulsion preparation);
-Breakage of solid particles (important for suspension preparation);
-Radicalization of molecules (important for depolymerization, lysis);
-Chemical reaction acceleration (due to the locally increased temperature in collapsing bubbles and the availability of radicals).

All of these effects have a numerous commercial application from waste water treatment and sterilization to cement and food processing.

For the remainder of the discussion we will focus on petrochemical and hydrocarbon applications
of cavitation.

Application of Cavitation to Hydrocarbons

Depolymerization

As far as the established petrochemical and the emerging biofuel industry concerned depolymerization and hydrocarbon cracking are the most important effects that follow directly from the process of cavitation. Naturally occurring crude oil is characterized not only by the composition of the compounding hydrocarbons but also by the van der Waals interaction between the molecules, which gives oil elastic polymer like structure that negatively impacts the viscosity. Thick viscous oil requires more energy for transportation and processing (e.g. in terms of pump station power and heating necessary to prevent oil from solidifying in winter). In the same time heavy polymerized fuels burn less efficiently and produce more pollutants [9]. Therefore depolymerization of crude or the resulting petroleum products (such as diesel and fuel oil) due to the breakage of van der Waals forces between the molecules is an important use of cavitation – Fig. 1 . E.g. according to Kavitus [9] fuel oil deploymerization used by heavy trucks results in smoother engine operation, increased fuel economy ( up to 18% ) , and reduced emission of ash and soot (reduction of up to 50%) . The cavitation induced depolymerization also impacts crude oil rheology. E.g. [10] reports 5 fold reduction of viscosity in crude oil at room temperature after 5 hour cavitation processing.
Also:
http://www.scs.illinois.edu/suslick/doc ... alysis.pdf
------------
Just a thought, but this could possibly be related to a natural form of Catagenesis (crystalline quartz):
Unusual Animal Behavior & Earthquake Prediction

by David Jay Brown

These strange behaviors generally occur anywhere from moments to weeks in advance of a quake. Most of the people I have spoken with who have witnessed this phenomenon, observed the strange behavior within twenty-four hours of a quake, although some observations occurred more than a week before the quake struck. Berkland has suggested that there are possibly two primary precursory earthquake signals-- one several weeks before, and the other one just moments before the quake. A lot of reports appear to confirm this.

A number of theories have been proposed to explain this phenomenon, and what the precursory signals that the animals are picking up on might be. Because many animals possess auditory capacities beyond the human range, it has been suggested that some animals may be reacting to ultrasound emitted as microseisms from fracturing rock (Armstrong, 1969).

Another candidate is fluctuations in the earth's magnetic field. Because some animals have a sensitivity to variations in the earth's magnetic field (usually as a means of orientation), and since variations in the magnetic field occur near the epicenters of earthquakes (Chapman and Bartels, 1940), it has been suggested that this is what the animals are picking up on.

Marsha Adams, an independent earthquake researcher in San Francisco, claims to have developed sensors that measure low-frequency electromagnetic signals which allow her to predict earthquakes with over 90% accuracy. Adams suspects that low-frequency electromagnetic signals-- created by the fracturing of crystalline rock deep in the earth along fault lines-- are "biologically active", and that her instruments are picking up the same signals that sensitive animals do. As a result of this technology (whose details are a corporate secret), she says that her system makes unusual animal behavior observations obsolete.

Fish have a high degree of sensitivity to variations in electric fields, and because telluric current variations have also been noted before some earthquakes, Ulomov and Malashev have suggested that this is what the fish may be reacting to. Some organisms respond to changes in the polarity and concentration of atmospheric ions, and they suspect that this sensitivity enables some animals to detect the air-ionizing effects of radon released from the ground in advance of certain earthquakes.

Tributsch has suggested that a piezoelectric effect may be at work here. When certain crystals, such as quartz, are arranged in such a way that pressure is applied along certain of the crystal's axes, the distribution of positive and negative ions can shift slightly. In this way pressure changes produce electrical charging of the crystal's surfaces. On the average, the earth's crust consists of 15% quartz, and in certain areas it can be as high as 55%.

According to Tributsch, the piezoelectric effect of the quartz is capable of generating enough electrical energy to account for the creation of airborne ions before and during an earthquake. This electrostatic charging of aerosol particles may be what the animals are reacting to. Animals, also observed acting unusual in similar ways prior to thunderstorms, may have evolved a sensitivity to electrical changes in their environment (Tributsch, 1982).
http://www.lycaeum.org/~maverick/quake.htm
---------
Also related is the Bowen Reaction:
Bowen's Reaction Series

In the early part of the 20th century, N. L. Bowen carried out experiments to characterize the process of crystallization of igneous rocks from magma. The illustration below is patterned after Lutgens and Tarbuck's perspective of that reaction series.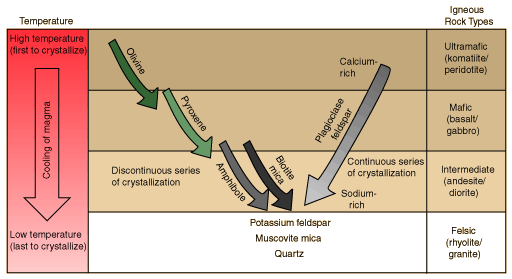 http://hyperphysics.phy-astr.gsu.edu/hb ... en.html#c1