Has anybody other than myself taken the trouble to check out the claims about the Hale Crater on Mars??
A typical Youtube video describes the problem:
http://www.youtube.com/watch?v=qcR7VX-F ... re=related
On the ESA (European Space Agency) website in the section on recent Mars images:
http://www.esa.int/SPECIALS/Mars_Express/index.html
You can search for 'Hale Crater Looking West'
and the instructions the youtube video gives to navigate to page 21 won't work since they're basically dated and other images have been added since the video was made. You arrive at this page:
http://www.esa.int/esa-mmg/mmg.pl?b=b&k ... =y&start=7
and this hi-res image:
http://esamultimedia.esa.int/images/mar ... ater_H.jpg
Typical crater image more or less, except to a trained eye it looks like somebody has monkeyed with brightness and contrast a bit too much and some of the ripples in the surface appear a bit too regular even in the version of the image they make available to the public. A growing number of the people following this stuff don't trust ESA or NASA any more and have been checking some of these images out. The doubters tried simply adjusting brightness down and contrast up, and zooming a couple of times. In fact I've done the same thing to convince myself of it (corel photo paint, Gimp, PhotoShop or whatever); this is a bit of what turns up: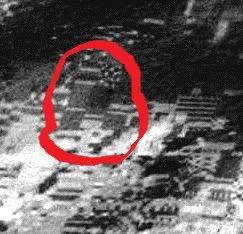 Now, I don't have any sort of alcohol or chemical problems nor any of the kinds of medical problems which cause people to see things that aren't there, and to me those images very definitely contain several tall and totally rectangular structures.
It strikes me as hard to picture anybody wanting to build a city inside a crater UNLESS whatever was going on was getting towards the end of anybody being able to live on the planet and then you might could picture building or collecting stuff for whatever purpose inside a crater for protection.