I think the proposed model of the Cosmos put forward by Bahram Katirai
will end up changing our understanding of the objects observed by
astronomers, and re-write the maps that until now have shown distances
that are far in excess of their true values. If proven true, his model
will shake astronomy and astrophysics to the core. Of course there will
be extreme opposition from the mainstream to even consider such radical
proposals. Think Galileo.
Kitirai was missing the Electric component to his model though. He still
has gravity as his primary force, whereas the latest improvements in
the measurement of the distances of the objects surrounding us has shown
a structure more likely to be formed by electrostatic an/or electro-
magnetic forces than gravity.
In this image we see a sphere, a disk, and potentially the radio
lobes associated with the pinch in a large scale flux tube. I will use
the term flux tube, rather than Birkeland current, as I believe much
of the energy carried by these filaments is in the form of a
longitudinal scalar magnetic 'wave', as apposed to the electrical
potential from the ionised contents.
For gravity to be arranging the structure seems highly unlikely,
whereas electrical charge would space the objects out so as to achieve
equilibrium. The objects could achieve their charge from the photoelectric
effect, or, if these objects are metallic spheres, then they may be charged
through induction by their movement through a Sun originated EM field.
The objects being charged spheres could account for the colors detected
by our instruments, as a charged sphere in a plasma environment would
result in a 'glow', causing the spectral signatures we now interpret as
being from a star. The earth also glows at a number of wavelengths, one
being for Hydrogen, so seeing Hydrogen emissions from
these distant objects does not necessitate them being stars. The signatures
of other elements also does not mean they are being produced by a star,
as we know the interstellar medium contains all the elements, and it
could be that the medium the objects exist in could have differing levels
of the elements in different locations, or layers.
The disk and shell structure is much easier to account for, IMO, in an
EM environment. The logarithmic scale model may better indicate the shell
nature, but obviously can not convey the dimensions properly.
This linear scale model is also showing a 4 lobed structure, a sure sign
to
me
that Electromagnetism is involved.
Is it possible then, that what we now believe are star clusters, are
really Oort spheres, that the stars do not shine with their own light,
but only from the reflected light of the central, true Sun? Depending
on the age and energy being dissipated by the central Sun, there will be a
differing density of planets (and their likely moons), different overall
size, and perhaps different shapes. Some spheres, some ellipses, some
predominantly still in disk form.
As even galaxies will only appear as points of light, at the estimated
distances, it is possible that these are really star clusters, but if
star clusters are really only planetary clusters, we would have to
reduce our size scale drastically. At certain wavelengths, we can detect
the flux tubes and the central energetic features, which indicate
a pinch, and likely only one central Sun. What we see here as stars, may
only be planets illuminated by the glow of the hydrogen in some of the
double layer shells surrounding them. It could also be that at different
scales, there are finer flux tubes emanating from the central object
that have their own pinches, and that the larger objects are stars, but
whos individual Oort type planetary clouds are not visible at the
distances involved. We need much more accurate distance measurements to
allow us to put everything in perspective, and determine sizes.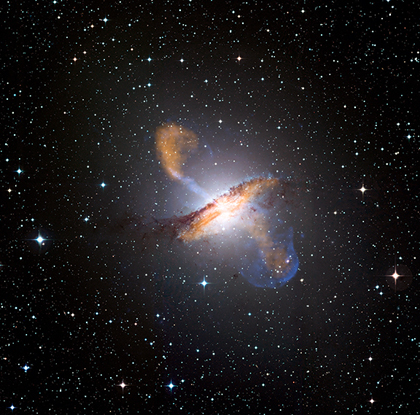 How big these objects are is again dependent on distance, but we do
know from magnetic field measurements and other clever instrumentation,
that the energy levels from some are huge, some calculated to put
out more energy than could be produced by a chain reaction of super-
novae, suggesting that this is a very large flux tube feeding the
central star, in this case referred to as a Black Hole.
I do not suggest that astronomers are trying to con us with their
present day picture of the Cosmos, only that the limits of technology
to accurately determine distance, and their entrenched beliefs that
electricity 'does nothing' in space, have limited their ability to
envision any other model.