Lloyd wrote:

Aether as Photons, or Not?

Lamare said above: In our model, the aether is described as consisting of what you could think of as small spheres obeying Newton's laws of motion and not much more. Fundamentally, all known particles and electromagnetic waves contain a magnetic component, which implies that some kind of vortex is present in the phenomenon. And therefore, fundamentally, the aether cannot exist [consist?] of any kind of known particle or photon.

Re:

http://www.tuks.nl/wiki/index.php/Main/AnExceptionallyElegantTheoryOfEverything

Michael Mozina said: As I understand his theory from the reading that I've done thus far, the "aether" is essentially composed of an almost infinite number of photons on various wavelengths, the moving kinetic energy that they contain and transfer, including the photons that carry the EM field. He is ultimately giving the aether a physical substance, namely moving photon patterns.

Michael, can you quote where in the linked article Lamare (i.e. Arend Lammertink apparently) said what you said there? I ask, because it sounds to me like he said the opposite above. So I'd like to see if he contradicted himself in the article, or if you misunderstood him.
Yes, lamare is me. First three letters of my last name, first three letters of my first name. Use "lamare" pretty much everywhere. Sometimes l4m4re, if lamare is already taken.
The math I used in my article is textbook
continuum
fluid dynamics. See for example Prieve:
http://www.tuks.nl/pdf/Reference_Materi ... Theory.pdf
The equations are used are
continuum mechanics
equations:
https://en.wikipedia.org/wiki/Continuum_mechanics
Continuum mechanics is a branch of mechanics that deals with the analysis of the kinematics and the mechanical behavior of materials

modeled as a continuous mass

rather than as

discrete particles

. The French mathematician Augustin-Louis Cauchy was the first to formulate such models in the 19th century. Research in the area continues today.
A rather short introduction to fluid dynamics can be found here:
http://community.dur.ac.uk/suzanne.fiel ... T/sec1.pdf
The basic equations of fluid dynamics

The main task in fluid dynamics is to find the

velocity field describing the flow

in a

given domain. To do this, one uses the basic equations of fluid flow, which we derive

in this section. These encode the familiar laws of mechanics:

• conservation of mass (the continuity equation, Sec. 1.2)

• conservation of momentum (the Cauchy equation, Sec. 1.3)

at the level of "fluid elements", defined in Sec. 1.1. In any domain, the flow equations

must be solved subject to a set of conditions that act at the domain boundary, Sec. 1.5.

If the flow leads to compression of the fluid, we must also consider thermodynamics:

• conservation of energy.

However we defer this complication until later in the course, Sec. 5, assuming initially

that the flow remains incompressible, Sec. 1.4.

1.1

The continuum hypothesis; fluid elements

At a microscopic scale, fluid comprises individual molecules and its physical properties

(density, velocity, etc.) are violently non-uniform. However, the phenomena studied

in fluid dynamics are

macroscopic

, so

we do not usually take this molecular detail into
account

. Instead,

we treat the fluid as a continuum by viewing it at a coarse enough
scale

that any "small" fluid element actually still contains very many molecules. One

can then assign a local bulk flow velocity v(x, t) to the element at point x, by averaging

over the much faster, violently fluctuating Brownian molecular velocities. Similarly one

defines a locally averaged density ρ(x, t), etc. These locally averaged quantities then

vary smoothly with x on the macroscopic scale of the flow.
My equations are based on Stowe's aether model, who describes the "molecular detail" of the aether as follows, whereby a "quantum entity" is a model for a "molecule" in macroscopic fluid dynamics. Note that the word "quantum" has nothing to do with quantum mechanics. For simplicity, one can think of it as a small marble having a mass and a certain velocity, which together give it a certain momentum p = mv:
http://vixra.org/abs/1310.0237
We will start by postulating a single vector entity (a single quantum

entity

) which:

• Has a defined momentum (p),

• occupies space of volume (s),

• and obeys Newton basic laws of motion

These quanta therefore can move through four dimensional space (x,y,z,t) with any velocity

(v), and have a mass (m p ) equivalent to (p/v).

We will further postulate that these quanta

form toroidal, fluid structures (vortex rings)

as indicated by Maxwell's electrodynamics. Starting with these two postulates, we shall attempt to describe and derive the key properties of such a media and compare the results with known physical properties.
So, from this basic postulate, the aether does NOT consist of any kind of known particle or photon.
Particles and photons are considered to consist of a number of "vortex rings", as illustrated in this picture, which says more than a 1000 words or equations: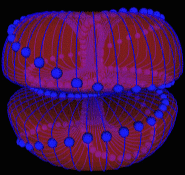 This picture also illustrates the difference between the "discrete particles" model at the bottom of the model, which would be the blue balls, and the continuum approximation, which would be the pinkish, more vage "shadow" left by the blue balls.
So, in
continuum mechanics
, we consider this "pinkish shadow" whereby we describe the "flow" of the fluid as a fluid and we do not worry about the details, i.e. each individual "molecule" or "quantum" in Stowe's terms.
Of course, the continuum mechanics description has a lower limit of validity. According to Stowe's calculation, the lower limit of validity for this model lies at distances of 6.430917E-08 m, his parameter L. (see post above). This value may or may not be correct, but what's important is that
there is a lower limit
and for now this is the only number we have available. I have the feeling this number is too big, but time will tell.
To sum this up:
1. In my equations, the aether is considered as a continuum, whereby no statements are made about the detailed behavior or properties of the "molecules" c.q. "quanta" of which the aether consists;
2. All 'real' particles and photons are considered to be some kind of structure, consisting of at least one vortex (ring).
So, there is a fundamental distinction between the aether, the medium, and the phenomena we observe as particles, photons or waves. These are considered to be manifestations of
flowing
aether, 100% analogous to the waves, vortex or smoke rings, etc. we observe in the air and waters around us.